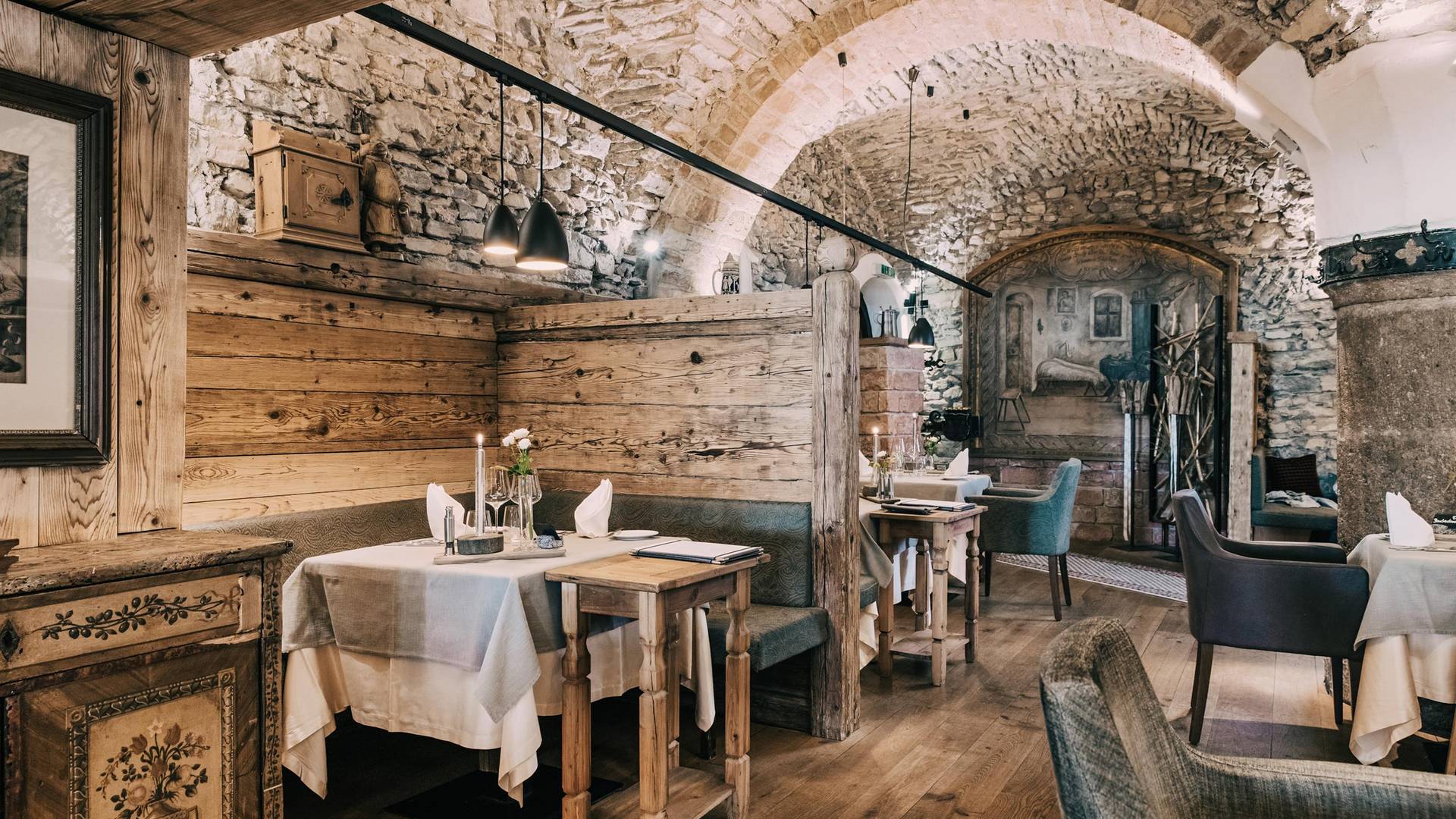 Hotel Klosterbräu & SPA
Klosterstraße 30
Seefeld in Tyrol
Just a moment - the content is loading...

Regional, seasonal, and phenomenal: traditional cuisine with practiced values
A tasteful variety – a unique way of handling food
Interested?
Since we ourselves are passionate gourmets and know exactly what we are longing for on our own holiday, we have been particularly happy to bring our tastebuds and experience to bear here.
It was particularly important for us to use regional and seasonal products.
Therefore, our kitchen philosophy includes wholesome and beneficial vitality foods that promote your health and well-being.
Inspired by TCM (Traditional Chinese Medicine), our range of food and drinks has been combined with traditional Tyrolean cuisine, thus offering you a nutritional diet just like we offer ourselves and our own children.
Try and savour all the options – dinner locations at Hotel Klosterbräu

Home-brewed beer dances with Tyrolean tapas.
The trendy "Bräukeller & Grill" steakhouse with own brewery.
Historic vault with stylish interiour and innovative food.
Take a look at our menu and reserve your table online.
Honour to whom honour is due – which is why our Bräukeller soon has its own website.
Because the world wide web has plenty of space for juicy steaks, truffle chips, and Co.

Vital Bistro – prospect of pleasure
At lunchtime, the spacious and light-filled conservatory with fantastic view of the garden invites you to enjoy a delicious lunch, while in the afternoon it awaits you with a tempting cake buffet.
Directly next to the outdoor pool, the large sunny terrace stretches out into nature.
Idyllic like at home in the garden – and with the same feel-good factor: bathrobes allowed.

The heart of your ¾ vitality gourmet boar: Gewölbesaal and Ritter Oswald Stube
It's best to declare this place your favourite place, because you never leave hungry.
The rich gourmet breakfast awaits you with an unusual and lovingly arranged buffet until 11 a.m. In the evening, on the other hand, a fine 6-course menu with a choice of dishes as well as theme evenings awaits you.
Plus: look forward to the daily salad & cheese buffet, hot dishes from the buffet, a pasta station, and an ice cream station.

Klosterkeller – since 1516 and not dusty at all
Well, maybe a little bit dusty, but that's what you get with exquisite wines and an original cellar vault.
A romantic dinner surrounded by hundreds of candles – special moments for special occasions. Probably the most beautiful surprise for your partner.

Klosterhof – where fresh wind is blowing
A wonderful Mediterranean summer night location under the open sky awaits you in the historic monastery courtyard.
Your Tyrolean breakfast in the morning tastes twice as good - whether in the fresh mountain air or comfortably under the closed glass roof.
Of course, we also serve dinner in this outstanding location all year round - all as part of the ¾ Vital Gourmet Pension. Look up to the sky and reach for the Magic Moments!

The Emperor's new … hotel bar!
The elegant lounge in modern splendour is a central meeting point for all house guests.
Shht ... you are welcome to pursue other vices here, such as smoking for example.
In other hotel areas, e.g. in the actual hotel bar, smoking is not permitted.
We are here for you until 03 April 2022!
Hot news and top offers with Feel Free cancellation conditions
Your safe time out
3G - rule (tested, vaccinated, recovered) remains in place and you stay flexible with the 48 h Feel-Free booking conditions.
Luxury Spa with Augustinus Bader
you can experience from now on in our Spiritual Spa. The "best skin care ever" is available directly from us.
For your spontaneous getaway
You'll find a room to suit your taste in our spare room exchange.
505 Years Special 6+1
For our anniversary celebration from 28.11. to 08.12.2021 we give you an overnight stay and offer a casual event programme.
We look forward to seeing you!
See you soon,
Agnes, Alois Seyrling & Seyrling family
& the entire Younique ® team

MORE INFORMATION