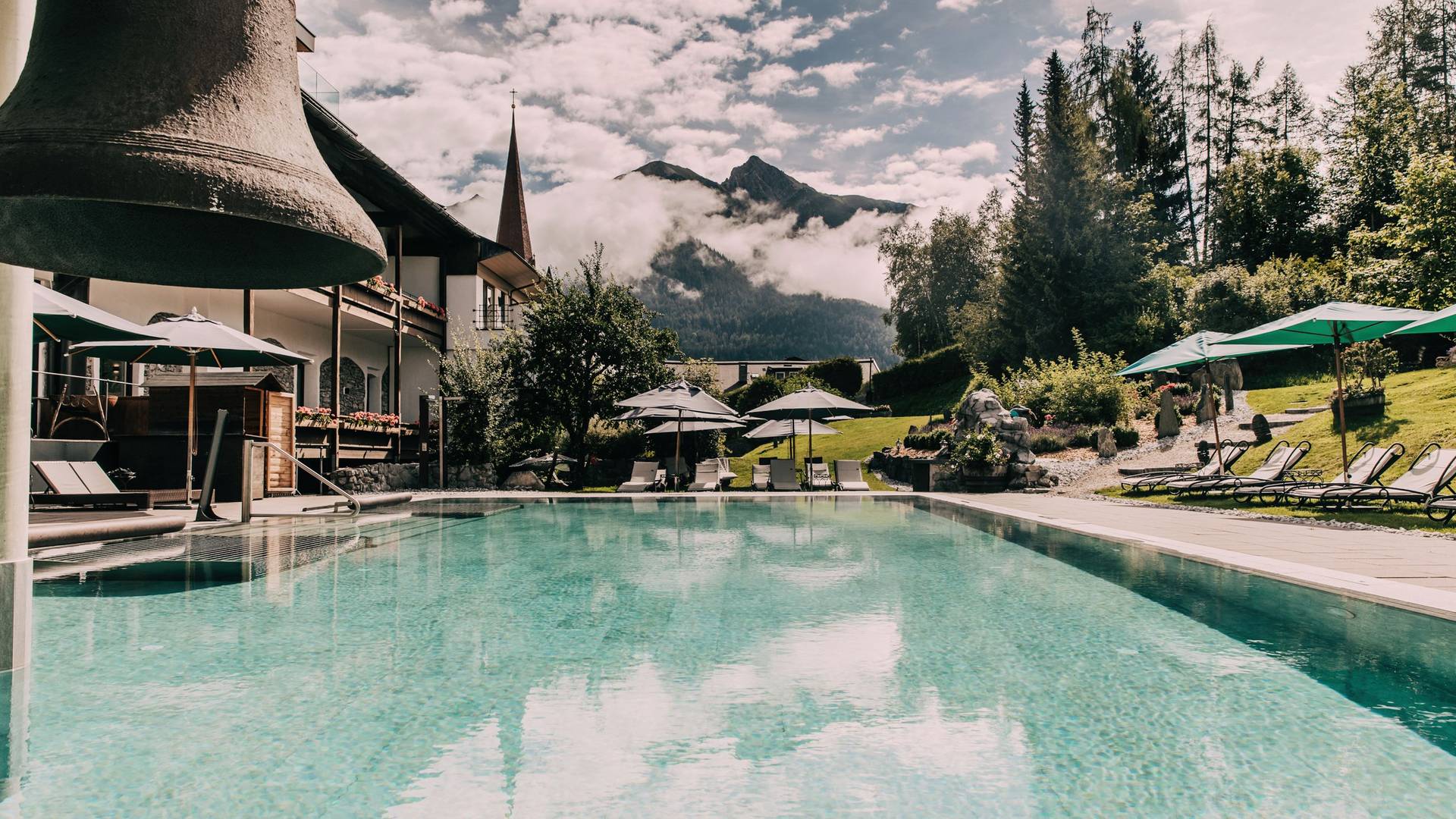 Hotel & Spa Klosterbräu
Klosterstraße 30
Seefeld in Tyrol
Just a moment - the content is loading...


More than a mere tradition
Smiles, Christmas magic, and memories to remember
In our 5-star hotel, Christmas magic is in the air and although this year will be different to others, we would like to tell you about our traditional Christmas market in Seefeld.
Christmas market fans cannot get enough of them; newbies fall in love at first sight. The Christmas market in Seefeld is one of the most treasured traditions in Tyrol. Already at the end of November, you can feel the festive ambience in Seefeld. The exact same ambience which awaits you also at our hotel, one of the best hotels in Seefeld, if we say so ourselves. Christmas decorations and hundreds of fairy lights transform the village into a veritable Christmas fairy-tale come-true. The typical wooden huts offer local culinary delights, delicate artisanry, and Christmas-themed gift ideas. While you are meandering between the market stalls, you can listen to seasonal tunes and local orchestras. Every once in a while you may be interrupted by the sound of bells and horses' hooves from the horse-drawn carriage rides carrying couples or smiling families across the picturesque scenery. Whether Christmas market or no, a winter holiday in Seefeld is all about wintry Christmas magic.







… the right atmosphere
A holiday with good food and drink is vital, but what about the atmosphere? Come to us and discover the difference it makes.
Wellness in Seefeld is not only about eating, drinking, and making merry on your holiday. At Klosterbräu, it is also the atmosphere that uplifts the soul and allows one to drift on an unusually soothing level. For your hosts, it was the combination of the old and the new that was crucial to their concept of wellbeing. The fact that part of the hotel was once a monastery and a brewery cannot be avoided when guests see and sense the traditions that have long remained – doorframes, paintings, murals, and candle-shaped lighting as well as a blend of spirituality and self-sufficiency where monks once baked bread and brewed beer. Here you can enjoy the rustic atmosphere of the 14th century combined with a modern facelift – the light of 500 candles creating a mellow mood and the pleasant aroma of baking bread from the bread bake sauna filling the air to tantalise your nose. You can leave a message for guests in the so-called "bierstein" and savour the beer from a tap in the wall. What about you – what is the right atmosphere for you?







Paving the way to wellbeing…
… with a gift voucher
At Klosterbräu holidays come to life when you receive a gift voucher to spend in our award-winning spa hotel: a path to holistic healing.
At Klosterbräu in Seefeld holidays are as diverse as you are. That's part of our spa concept: seeing the individual. We would like to show everyone the perfect way to relaxation and holistic healing, that's why a little enticement – a gift voucher from us – can go a long way. There are plenty of treatments to choose from within our FEEL:YOUNIQUE range® which can be tailor-made according to your specific needs. It's all about confiding in our capable staff while they listen attentively, give expert advice, and arrange the most suitable treatments for you – simply unique, true to its word. Whether you need physical, emotional, or spiritual support, or even a combination of all three, you are sure to be delighted by the effects that visiting our spa can have on you. So, you see, having a gift voucher from us is like having a ticket to freedom so why not come and see what's in store for you once you step onto your path of wellbeing.












A snap with your fingers…
…and you are all set for pure wellness this Christmas
A "Feel YOUNIQUE® Spa Package" makes the ideal Christmas gift to remember. Take a sneak preview of what is waiting for you!
If you are still looking for a Christmas present for your loved ones or for yourself, then we recommend you to consider a spa package to remember at one of the best hotels in Seefeld in Tyrol! This time of year, we at Klosterbräu truly enjoy the festive Christmas flair with its warm lights, inviting fragrances, delicious flavours and sweet sounds. How so? Why, by indulging in a proper wellness session of course, a session, which will make you feel truly YOUNIQUE®. Our various offers include specialised products and treatments. The high quality of our spa area and professional team guarantees the highest level of relaxation and wellbeing, just what you might be looking for this year. What do you think about a romantic package for two as a gift for your better half or something just for you, for your own self-care?! All this and much more awaits you at Seefeld, where a spa break is bound to be truly YOUNIQUE®! We hope to see you soon. Until then, let our spa programme inspire you and treat yourself at home to some well-deserved me-time…








We stand for SAFE SERVICE
Tyrol's tourism industry relies on certified safety – and we are happy to be part of it: In the winter season 2020/21 we are using the "SAFE SERVICE" learning app as a modern training tool for our employees*. Our company has successfully completed the digital training on topics such as safety provisions, distance rules, hygiene measures, or contactless customer experience.
We live SAFE SERVICE internally and know very well what our guests want in terms of safety. We also consciously offer SAFE SERVICE to the outside world, making it clear that we are a SAFE SERVICE company.
More information: https://safe-service.tirol/


Discover your own magic moments …
… on a summer holiday in Seefeld!
It's never too early to start planning your summer holiday, and the Seyrling family and Klosterbräu team can't wait to help you bring your magic moments to life!
We know, we know: Christmas is fresh in our minds and the mountains are still firmly in winter's grasp. But here at the Klosterbräu, we believe it's never too soon to start planning your summer holiday. If you're wondering what to do in Seefeld in summer, our Klosterbräu family will be happy to help! With the glorious sunshine and the magnificent Alps providing a stunning backdrop, there's plenty for nature lovers and outdoor enthusiasts to discover. Why not join our in-house activity and mountain guide Clemens on a sunrise hike to one of the most beautiful viewpoints in the Olympic region? Or perhaps you'd like to get to know your host Alois Seyrling a little better on a sports hike through breathtaking alpine scenery? If you're looking for a touch of indulgence, our wellness area with eight themed saunas, a range of rest and relaxation rooms, spacious Garden of Eden, and much more, all in the beautiful, historic setting of our monastery home, invites you to relax and unwind on your summer getaway. That is Magic Moments.YOUNIQUE®.







Immerse yourself in sport, nature, and culture …
… and experience the best of the Alps!
Whether it's winter or summer, active or relaxing, with friends or family: a holiday in Seefeld is sure to hit the mark! Read on to find out what you can look forward to!
We at the Klosterbräu, the hotel for wellness in Seefeld, would like to tell you more about the magical region we call home: the Olympic region. Are you all about relaxation, or do you live for sporting fun? Perhaps you're fascinated by history, culture, and traditions? Or maybe it's gourmet cuisine you're longing for? In Seefeld, you can make your holiday dreams come true 365 days a year! We are a much-loved destination for travellers from both within national borders and abroad, and it's no coincidence that we are a member of the "Best of the Alps" association, which features some of the most prestigious ambassadors from the alpine region. A holiday in the Olympic region of Seefeld means three things:
The epitome of well-being, guaranteed by a choice of excellent hotels and restaurants
Infinite possibilities for discovering local traditions, sports, and culture, all enveloped in an air of charm and cheerful hospitality
Insatiable culinary pleasures. Exquisite, authentic, and gourmet: this is the gastronomic promise of our region.
You too can turn this delightful trio into a dream come true. But how? With a holiday in our 5-star hotel! When our doors open once more, you will be welcomed by 500 years of history, spoiled with exclusive services, and overcome by unforgettable emotions.
"Be ready to Live.YOUNIQUE®, to Feel.YOUNIQUE®, & to Enjoy.YOUNIQUE®."







A fusion of tradition and passion creates a unique Tyrolean experience
Hospitality from the heart
Passion and tradition are the beating heart of this Tyrolean hotel, where the seventh generation of the Seyrling family looks forward to giving you a warm welcome.
It's the capital of cross-country skiing and it's beloved by visitors from near and far. We are of course talking about Seefeld, where, with some 256km of perfectly maintained cross-country ski trails, you'll be spoiled for choice. But that's not all! Fans of downhill skiing can test their skills on close to 40 pistes featuring a range of ski lifts. And the cherry on the cake? Why, staying at the most ancient family hotel in Seefeld, of course! Located right in the centre of Seefeld, Hotel Klosterbraü can treat you to a unique holiday 365 days a year in its stunning former monastery setting, where the key ingredients are passionate attention to detail, an abundance of charm, and, above all, the hospitality of a family tradition that goes back seven generations. The Seyrling family has been putting heart and soul into caring for its guests since 1809. The exceptionally high quality of the services on offer is reflected in the numerous awards bestowed on the hotel. When it comes to wellness, for example, its Spiritual SPA concept, designed around the unique ambience of the 500-year-old monastery, secured the hotel the Relax Guide Spa Award 2019. So, when the time comes to unbuckle your skis, lovers of wellness can indulge in holistic ritual treatments, immersed in the rich monastic past of our spa. Let us show you the meaning of Feel.YOUNIQUE®!







Precious moments to inspire and innovate
Make the most of Mother Nature's gifts
You've walked upon the snow-covered slopes in winter, but have you ever wondered what it looks like when the snow melts?
What to do in Seefeld in summer? Spend precious moments discovering this spectacular Olympic region from its sunny side. Stroll along meandering alpine streams and flowering pastures, dip into a secluded bathing lake, or visit one of the five villages in this area at 1,200m. Summer is the perfect time to explore a vast network of 650km of well-marked walking, hiking, and climbing routes of varying levels of difficulty. For people with walking difficulties and families, the Promenade Walks offer unique barrier-free trails to enjoy the stunning scenery. Several themed trails lead through Karwendel Nature Park, the protected Wildmoos nature reserve, or to the 60 mountain huts for idyllic stops along the way. A set of three themed trails forming a star at the summit of the Brunschkopf mountain is an absolute highlight, and wherever you go, a wide range of accommodations, spa facilities, and leisure activities are on offer.







The Olympic dream and other tales
Do you want to become an Olympic expert and enjoy a sporty atmosphere? Then, off to Seefeld
Don't you know what to do in Seefeld in summer? If you are an alpine sport fan, exploring the Olympic region Seefeld is the ideal way to soak in the Olympic atmosphere and become one with its unique rugged nature. After the winter celebration of alpine sport and enjoyment of the Nordic lifestyle, the fun continues throughout the summer with plenty of opportunities to see this region from another light, and to gain a fuller perspective, as well as to recharge one's own energy. Hang on to that Olympic spirit by training at the Competence Centre, where you can rub shoulders with the stars, or go on a themed hike. Trigger memories and gain an insight into the cultural and historical development of the area. The Seefeld Ski Trail offers a three-hour walk of medium difficulty to the Brunschkopf, where you enjoy stunning 360-degree views of the whole 650km region from a man-made platform. It is well-known for hosting the Olympic Games on three occasions. It boasts participation in the 'Best of the Alps' alliance, award-winning cross-country trails, and has, in recent years, become more popular for Nordic skiing, even holding the annual Nordic World Cup. Amongst other stops, you can see where the Olympics were held, visit the ski-jump and winner's podium, as well as delve into historical archives. Where better to follow the Olympic dream? Come and experience it first-hand and fulfil your dream, too.








You, me, and baby makes three
Experience your nearest and dearest as you've never seen them before – it's like being born again
A family hotel in Seefeld is the ideal place for a well-deserved break from the daily stresses of managing partnerships, children, and personal welfare. Hotel Klosterbräu in Seefeld prides itself on providing a space for young families to nurture precious moments of togetherness, and for parents to fully experience their children's development. Not only does this strengthen family ties, it also allows parents to participate in their adventures and create a sense of security and well-being. Your hosts cater for a varied programme of activities: they light campfires, organise path-finding games, go fishing, and observe forest animals in the great outdoors. The sportier can learn how to curl or how to build an igloo. And in the evening when the kids are asleep, parents have time to relax, enjoy each other's company, and contemplate while being pampered in our holistic world of wellness. Further afield, there is a plethora of interesting leisure pursuits: water rats can rent a boat, you can have a picnic with alpacas or go on a marmot safari, and you can learn how to climb at the climbing centre. For older kids and teens, the hotel is just a stepping stone away from a vast variety of adrenaline-pumping adventures that are sure to encourage many to forget their mobiles and get a piece of the action. The perfect thing is every child can explore and find exactly what they are looking for.







If beer was the food of love …
Looking for something to quench your thirst in summer, experience tradition and green philosophy?
What can you do on your Seefeld holidays? Enjoy a refreshing homemade beer at Klosterbräu's Bräukeller Grill & Veggie well-known for its reverently brewed selection of beers to quench your thirst. True to the monastic tradition of beer brewing since 1516, your hosts, the Seyrling family, continue to make excellent beers using only malt, hops, and spring water. There's no better way to drink noble "barley juice" brewed with great love and patience: made with such love that every beer has a special name, some of which have been named after family members, e.g. Bubi's Helles or Sigi's Weizen. To make the most of your experience, they offer a flat rate and interesting hand signals for express orders. If you prefer other beverages there are plenty to choose from, including homemade Apfelstrudel liqueur, vegan, and vegetarian drinks. And when you need something to soak it all up, the choice of regional and seasonal burgers, premium steaks, salads, and vegetable dishes is wide: all lovingly marked for easy selection.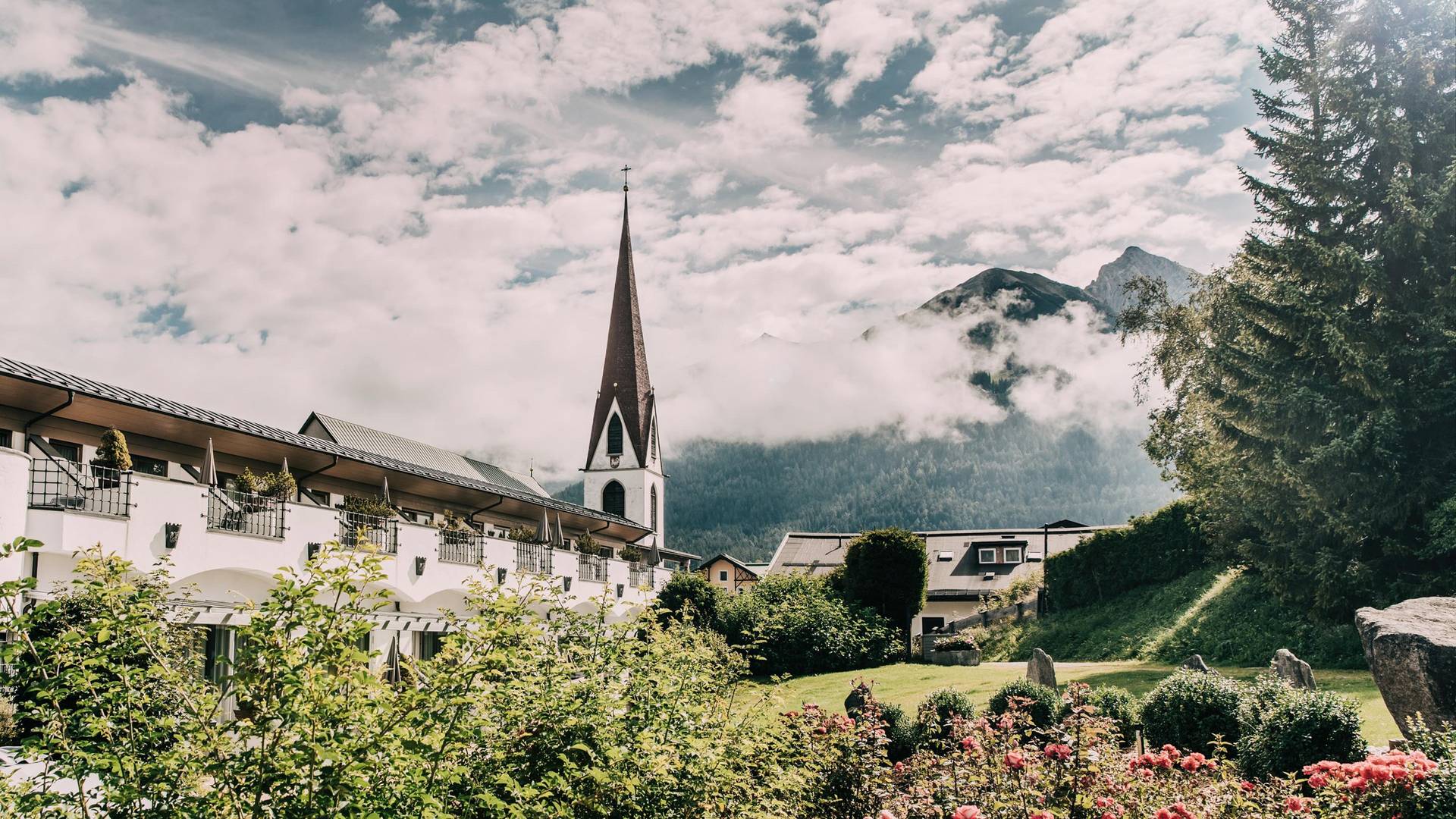 Life is like a game of tennis; the player who serves well seldom loses.
Improve your game, improve your life
No time to practise your serve? You can't be serious – look around and take your pick from our tennis Eldorado.
What to do in Seefeld in summer: enjoy the fantastic views around this region as an alternative to dashing up the mountains. Known as an Eldorado for tennis lovers, there are plenty of opportunities for amateurs and professionals to improve their game while taking in the spectacular surroundings of lush green vegetation, bright blue skies, and impressive mountains fading into the distance on a hazy sunny day. Tennis Club Seefeld offers a broad range of courses for all age groups in collaboration with ESTESS Tennis Academy which is well-known for its outstanding quality. It has six clay courts for those who prefer a slow ball and high bounce to work on their game: more competitive players can also participate in a summer tournament. The Casino tennis centre also prides itself on four outdoor green Tenn clay courts, while eight indoor courts covered with Bross slide surfacing enable optimal training for all abilities.


An unexpected journey – the Misty Mountains are calling
Follow your quest and discover adventure
Are you daring enough to follow the quest and discover the secret of the spirit? Then join your companions and set off.
From your family hotel in Seefeld, it's just a stone's throw away to a comfortable hike through the Leutasch Spirit Gorge, especially for those who love the mountains for its sense of otherworldliness. Locals used to believe that a spirit was hiding in its crevices and that his goblins came out to dance at night. Kids love the three trails leading through a narrow gorge enclosed by rugged cliffs and overlooking a crystal-clear waterfall. Along the way, you are instilled with an eerie sensation that you are not alone, enhanced by the fantastic tales told by the goblins you meet. Legend has it that the spirit and a fairy were once friends: he loved listening to her worldly stories until one day, he became angry, condemned her to silence, and trapped her in the ravine. Why? There's only one way to find out – let the goblins accompany you on your quest. It's like trekking through the Misty Mountains with Bilbo – like time standing still. Are you ready?
Eye-catching prospects – Ready to welcome you from Wednesday 19th of May!
Feel Free booking conditions 48h before arrvial – applying until 28th of November 20021.
At last, the waiting is over. We'll be ready to welcome you from 19th of May 2021 with a stunning opening special for the travel period up to the 8th of July and loads of great offers.
Book now and remain flexible with our 48h Feel-Free booking conditions.
Looking forward seeing you again!
Agnes, Alois Seyrling & family Seyrling
& the Team Younique ®

MORE INFORMATION