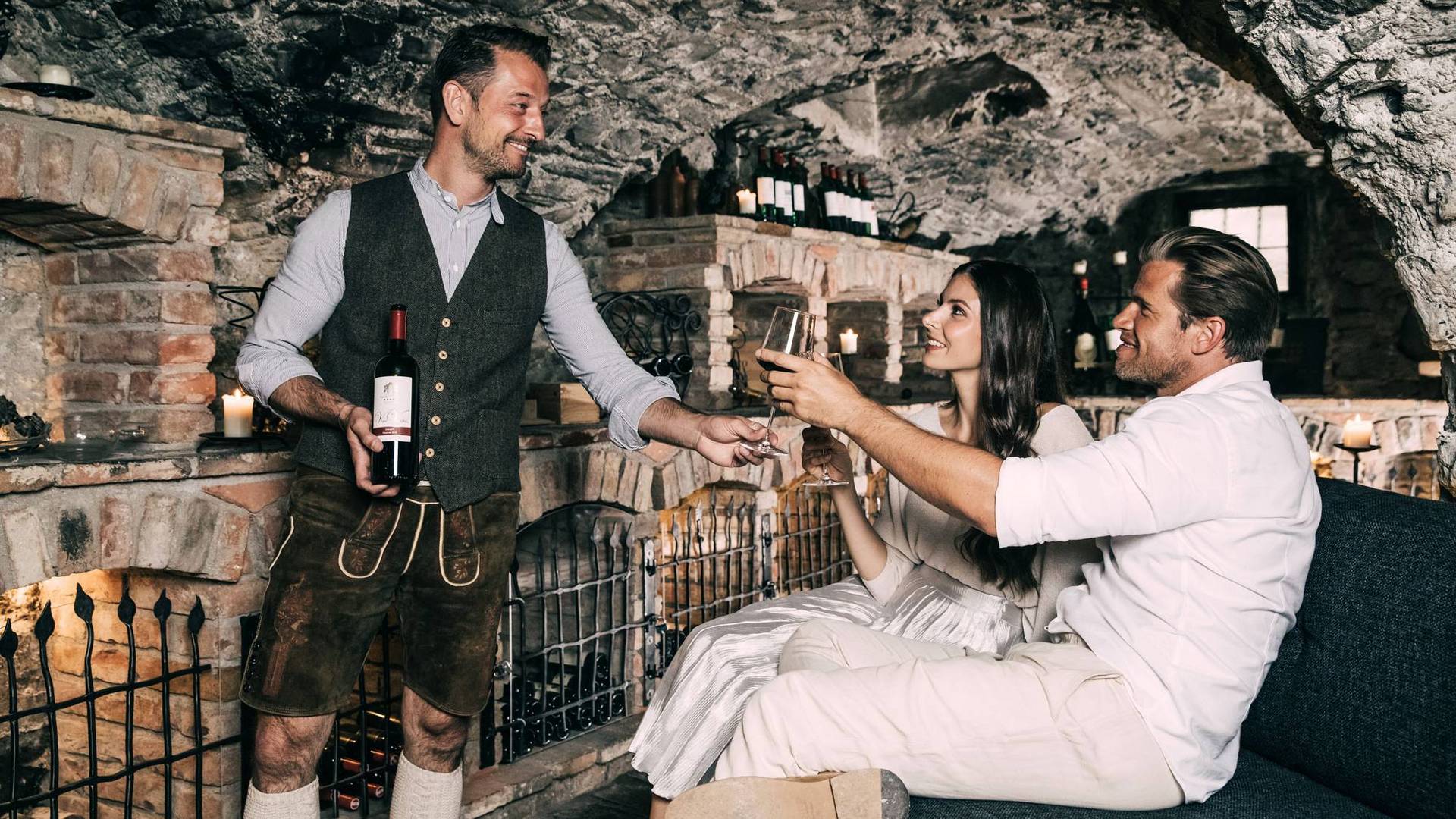 Hotel Klosterbräu & SPA
Klosterstraße 30
Seefeld in Tyrol
Just a moment - the content is loading...

YOUNIQUE® IS A FEELING
Satisfaction - individual & unique
Interested?
...we knew you were curious! That's good, then you will
feel very comfortable with us.
YOUNIQUE® is not a marketing slogan - it is the description by our guests, condensed to just one word,
consisting of two inseparable halves.
UNIQUE & YOU = The guest and his or her individual as the focus
of all our ideas, services and daily actions.
YOUNIQUE® is REAL hospitality, as it can only arise deep in the heart and when you love what you do. Because everything you do out of genuine joy is honest, authentic, unmistakable
and also especially good.
Come by and fall in love.
Agnes, Alois & the Seyrling family
YOUNIQUE® you feel everywhere - It is our thinking. Our heartbeat.

PASSION.YOUNIQUE® - Our passion
We run our hotel with ease, honest hospitality and charming humanity. This is not only embodied by us as hosts, but is also the irrevocable foundation for cooperation at eye level with our 100 employees.

LIVE.YOUNIQUE® - Our home
Our region offers an incomparable quality of life with four seasons full of character. Nestled in Austria's largest nature park with countless activity and sports opportunities, as well as a perfect infrastructure -
Seefeld, the diversity of life.

FEEL.YOUNIQUE® - Feel wellness
The massive monastery walls wrap themselves protectively around the lovingly designed infrastructure and convey peace and security.
All treatments are tailored to your individual wishes and the feeling you want to experience after the treatment.
Strengthening, calming, relaxing or vitalising.

ENJOY.YOUNIQUE® - Varied enjoyment
Elegant, historical, rustic, traditional, homemade, romantic, border-crossing or casual. Choose to your heart's content which of the eight worlds of pleasure you want to immerse yourself in.
Our THINK.YOUNIQUE® philosophy will accompany you in every decision.

ACTIVE.YOUNIQUE® - Vitality through movement
We take you out into nature - the real source of strength for body, mind and soul. If you wish, we will accompany you all year round at your individual level in the diverse sports and exercise opportunities in our region.
Excitement & relaxation.

MAGIC.MOMENTS - Unforgettable moments
Experiences that are accompanied by pronounced emotions and strong feelings anchor themselves in lasting memories. We are happy to give you pictures for your photo book of a lifetime.
We design the frame and you are in front of and behind the camera and press the shutter release.

THINK.YOUNIQUE® - Our thinking
We think and act in terms of generations. With respect and regard for our environment and our fellow human beings.
We shape the present for a future worth living for our descendants.
Our THINK.YOUNIQUE® Philosophy

BEE.YOUNIQUE - Our bees
Busy buzzers as permanent guests at the hotel
Interested?
Did you know that for 1 kilo of honey the industrious buzzers travel over 100,000 km? That's 2.5 circumnavigations of the earth (and that's without the speed of sound). We make it much easier for our bees. Since summer 2020, we have had over half a million leasing bees on our parish hill behind the hotel. Due to the snowy winter on the Seefeld plateau, they spend this season down in the valley and then move to our spring meadows. A summer holiday, so to speak. We mow our meadows only once in summer so that all insects can enjoy the blossoms for as long as possible.
Every guest has the opportunity to support this project with € 3 per day, because: for all guests who do without the additional second room cleaning per day, we donate this amount to the "Seefeld Forest & Bee Project". Of course, you decide for yourself whether you want the second daily room cleaning or whether the amount goes to this magnificent project. BEE.HAPPY!
Power source
The main source of our thermal energy is the Seefeld Bio-Ortswärme, an ultra-modern wood-chip plant. A solar system serves as a supplementary power source for heating our swimming pools. That's all we need to make you feel warm and cosy everywhere. Our electricity is supplied 100% by green electricity suppliers, i.e. producers who completely dispense with fossil fuels.

Energy optimisation in cooperation with SIEMENS
Together with SIEMENS, we have taken on the CO2 optimisation project and also successfully implemented it. We have even been so diligent so far that we have been nominated for the CO2 Countdown Award 2022 in the category "Creatively rethought". Now it's up to us: Save even more, keep your fingers crossed and hopefully win the award. This would look very good next to our CO2 counter in the hotel lobby...

Always has been.
A company that has developed over 6 generations is deeply rooted in its environment and surroundings. We work exclusively with suppliers and partners who share our attitude towards people, animals and nature.
We are not a certified organic hotel, but organic in all its facets is deeply anchored in our hotel. We carefully consider in which areas REGIONALITY takes precedence over a BIO claim and are constantly developing further. We are also growing.

We have been a partner of the BEWUSST TIROL campaign for several years. This means that we are committed to the indispensable responsibility for the quality and regionality of our products. We ensure regional enjoyment for our guests through Tyrolean food.

Travelling by train is doubly worthwhile
All guests who travel to us by train or bus receive a rental e-bike for one day. Furthermore, you can use the regional bus free of charge.

Global partnership for the protection of the world's climate
The basic idea of this concept lies in the partnership between Indigenous Peoples in the Amazon and Europe, with the protection of the global climate as the main goal.
According to the guideline: ACT LOCALLY - THINK GLOBALLY. As a Climate Alliance partner company, we are committed to the topic of greenhouse gas reduction in a variety of areas of action.

Be the change you want to see in the world.
We work exclusively with Tyrolean printing partners, using varnish and oil-free inks, recycled paper and CO2 neutral printing processes. In-house prints are produced on Konica printers, also certified with the eco-label.

A hotel alone does not make a decisive difference, but an entire region, with over 1,700 businesses, does!
The tourism association Olympiaregion Seefeld has committed itself to the "REAL.SUSTAINABLE" concept. We are a pilot region for the whole of Austria and are developing concepts that will then be transferred to other tourism associations.

For our vegetarian farm with petting zoo "Sigi's Sauhaufen", a variety of flowering fruit trees, vegetable, herb & berry bushes as well as our own hops and a flower meadow are planted. We allow ourselves to "steal" some of the honey from the bees for their good care and use it for:
Ihren Frühstückshonig
Unsere Honigseifen
Kosmetikartikel wie Lippenbalsam & Handcremen

That is why we are currently planning to build our own wood chipping plant. The wood used will come exclusively from our own forest and from the farmers on our plateau. This autonomous heat generation will be designed in such a way that we can also supply our agriculture and also the surrounding neighbours with this organic wood heat. Alternatively or in parallel, we will consider an extension of the solar system or even new geothermal heating systems.
Other projects we are currently expanding:
Waste reduction concept
Plastic reduction
We will be there for you continuously from autumn 2022 to spring 2023! Plenty of time for wellness, winter, Christmas & Co.
See you soon,
Your hosts