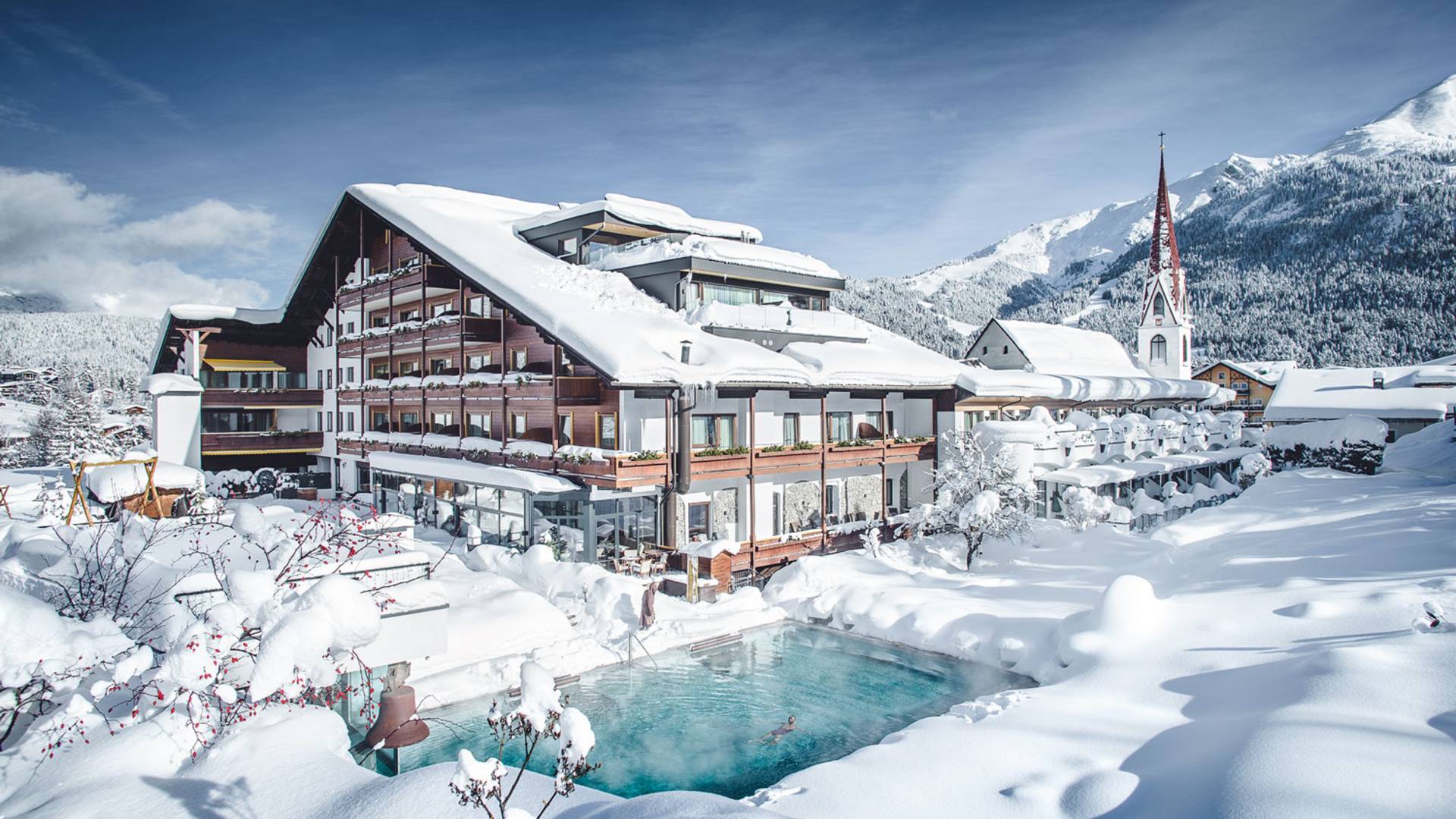 Hotel Klosterbräu & SPA
Klosterstraße 30
Seefeld in Tyrol
Just a moment - the content is loading...

We are here for you
Continuously until Easter 2023
Interested?
We are open and welcome you - continuously until Easter 2023.
Biking, hiking, swimming in the natural and mountain lakes, beats by the pool, market days, sunbathing, storming the peaks 😉 ...everything is possible! And there is plenty of space, peace and freedom - not only in our hotel.
We look forward to seeing you!
Agnes, Alois and the Seyrling family

Your arrival with the 3G rule and completely without ;-)
Since 05 March 2022
There are no more access regulations: you can use hotel, catering, leisure and sports facilities without any restrictions.

The Green Pass is no longer necessary.

ONLY UNTIL 31.05.2022 return to Germany with 3G status for all persons 12 years and older. After that until 31.08.2022 for the time being no proof is needed.
Children and adolescents up to 12 years do not need any proof anyway.

NO quarantine for unvaccinated and non-sick people.

NO entry registration required.
Please note if a special registration, proof and quarantine obligation applies for your home country for the return journey. The Olympiaregion Seefeld has summarised the most important information for you.
If you have any questions, please do not hesitate to contact us. Due to this situation, it may take longer than usual to answer your e-mails.
FAQ - Frequently asked questions from our guests: Good to know
All swimming pools and whirlpools can be used by you without restriction.
All saunas can be used by you without restriction.
Relaxation, lounging & reading rooms in the wellness area
Due to the distance regulation (20 m² per person), we have adjusted the distribution of the sunbeds accordingly.
Of course, we have still provided sufficient sunbeds for you.
Massages & beauty treatments
Due to the physical proximity, you are free to wear an FFP2 mask - disposable masks are available for you at our SPA reception.
All treatments can be offered as usual.
All rooms are disinfected using steam (chemical-free) before your arrival.
Surfaces in public areas, door handles, lifts, shelves etc. are disinfected according to a strict cleaning protocol.
Sufficient dispensers for hand disinfection are available throughout the hotel.
Bed linen and towels are cleaned according to the standard.
And here's an overview of your holidays on the SAFE side:
Looots of space (calculated on 130 guests)
Indoor hotel area: 17,000m2 – per guest: 130m2
Pfarrhügel private garden: 80,000m2 – per guest: 615m2
Private forest: 890,000m² – per guest: 6,846m²
Spa & wellness area: 3,500m² – per guest: 27m²
3 pools, 2 whirlpools, 8 saunas, 8 relaxation rooms
Completely new and enlarged fitness room
9 Dinner-Locations inside the hotel
Sunny high plateau Seefeld
7km from the German border
Accessible via three cardinal points
13 lakes, accessible on foot or by bike from the hotel
560km walking and hiking routes
230km bike and e-bike paths
27 holes for golfing
More than 50 shops, boutiques, and casinos
More than 50 restaurants
Tennis: 8 indoor courts and 8 brand-new outdoor courts
During the entire COVID-19 period, very low case numbers in Seefeld
Our Karwendel Nature Park - 727km²
The largest protected area in Tyrol
The largest nature park in Austria
Origin and source of the Isar river
Unique alpine flora and fauna
Hiking and biking paradise
Countless rustic huts

- Enjoy Younique & safe -
We do not only meet but exceed all distance and hygiene regulations with ease. Thanks to our 9 Dinner-Locations you can enjoy to your heart's content.
We have always offered you numerous possibilities for retreating and relaxing. Now you can reserve our saunas, pools, and fitness room exclusively for you by the hour. Free of charge. New since summer 2020: Additional outdoor pool & magnificent new fitness room. Lots of space – have fun!
We are also breaking new ground when it comes to our rooms. You are free to decide whether our employees clean your room 1 or 2 times a day. Before every new arrival the entire room is cleaned without chemicals by means of steam disinfection!
- Passion Younique & safe -
We continue to welcome you with our heartfelt smiles. Even if it is very difficult for us, we currently have to do without handshakes and hugs. Instead we have a new Klosterbräu welcome! And just like the old one, it comes right from our hearts.
White mountains means the start of the season! Head into winter with our midweek special in December. We'll give you one night for free. Click here to go directly to Cuddle Time +1. 25.11. also sees the start of Tyrol's most beautiful Advent market, right next to the hotel.
Vacations at Sigi's Sauhaufen: closed for visitors until 2.12.2022. From 2.12. to 22.12.2022 only open on weekends (Friday to Sunday), as well as on 8.12.2022 (Austrian holiday) at the following times: 10.00 to 12.00 & 13.00 to 16.00. As a hotel guest you can always visit the farm outside. The indoor area we open gladly on request, if our farmers are not just on site.
By the way: We are here for you continuously from autumn 2022 to spring 2023! Plenty of time for wellness, winter, Christmas & Co.
See you soon,
Your hosts