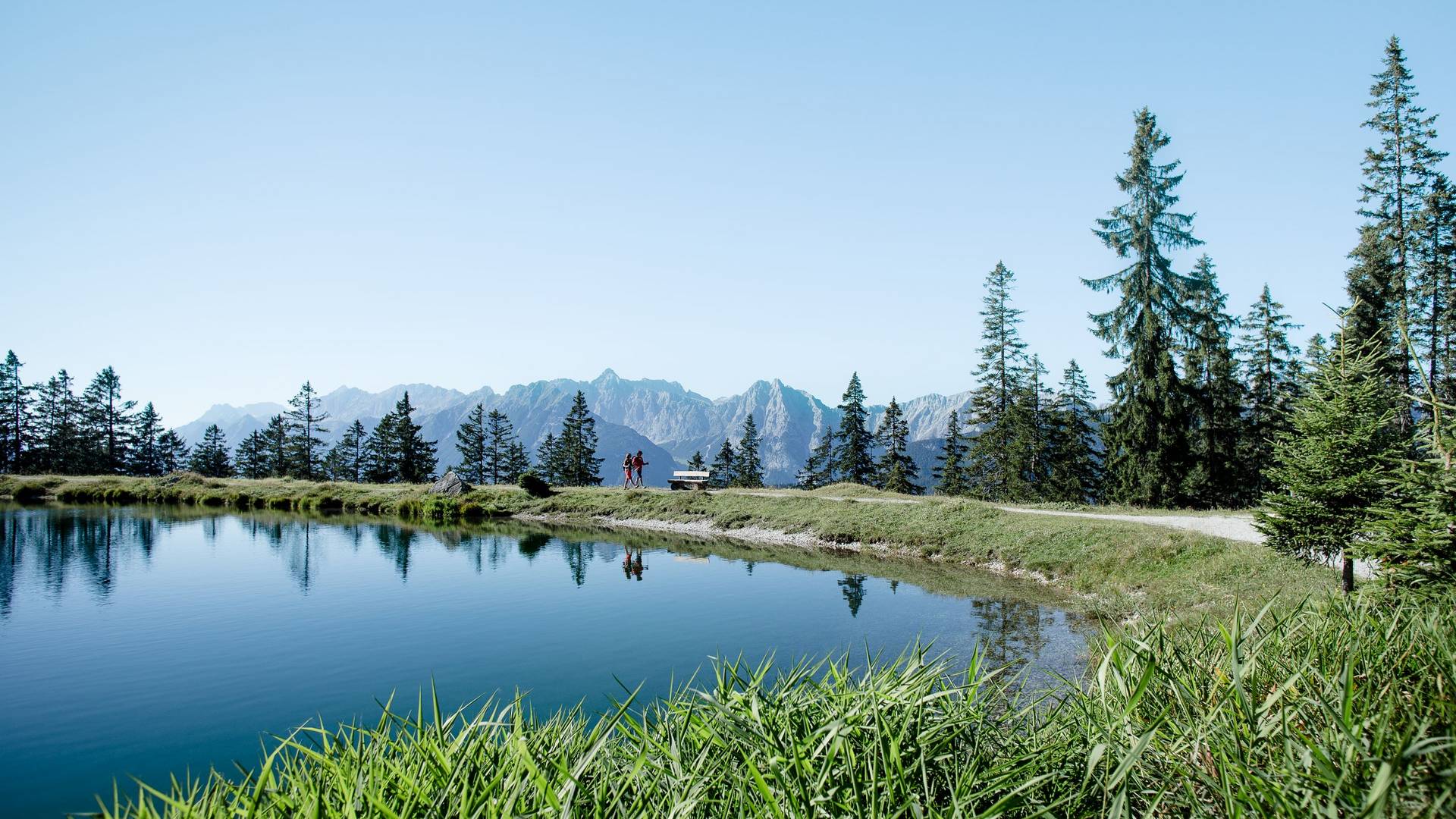 Hotel Klosterbräu
Klosterstraße 30
Seefeld in Tyrol
Just a moment - the content is loading...

Holiday in Seefeld: take time to discover the Alps
Holiday in Seefeld
Interested?
Refreshing mountain air at 1,200 metres above sea level with a view over the majestic mountain scenery of the surrounding Alps, filled with the certainty that nothing could be better than a holiday in Seefeld in your romance hotel in Tyrol, Hotel Klosterbräu. Your holiday paradise on a high plateau spans five locations: Seefeld, Scharnitz, Reitz, Mösern-Buchen, and Leutasch. You can enjoy a holiday in Seefeld all year round – and alongside an exceptional selection of leisure and sport activities, a cultural and culinary journey of discovery through the heart of the Tyrolean Alps is guaranteed. A holiday in Seefeld, Tyrol means hospitality paired with rural charm. Dive into an experience for all the senses on your holiday in Seefeld, Austria.
Cold hands, warm heart – discover your winter on holiday in Seefeld
The high altitude guarantees perfect snow conditions, making the Olympic region a true paradise for your winter holiday in Seefeld. Where the Olympians showed the surrounding 3,000-metre peaks what they were made of in 1964, 1976, and 2012, today you can enjoy the unforgettable experience of nature in the cold season. 266 kilometres of perfectly maintained cross-country-ski trails, two wonderful ski resorts, countless winter walking trails, toboggan runs, a biathlon track, and much more come together to create your perfect holiday in Seefeld. After you've enjoyed your sporting fun, the cosy village is sure to enchant you with its fairytale charm – a leisurely stroll through the festively decorated streets is a must on your holiday in Seefeld.
Sun on your skin, eyes on the mountains – summer holiday in Seefeld
A holiday in Seefeld means experiencing nature with all your senses. Through stunning walking trails, one-of-a-kind bike tours, or varied climbing routes, you can discover the stunning natural landscape of the Olympic region on your summer holiday in Seefeld. 650 kilometres of marked mountain trails await you – divided into various difficulty levels according to their requirements and characteristics. Golf aficionados won't be left wanting on your holiday in Seefeld, with the chance to play 18 holes on one of the world's most beautiful golf courses. With the mild evenings, you can look forward to bringing your day to a relaxing close. Stroll through the pedestrian area, enjoy shopping in the exclusive stores, or try your luck in the casino – treat yourself to special moments on your holiday in Seefeld.

Discover the meaning of hospitality on your holiday in Seefeld
We are the sixth generation to welcome guests from all over the world to our home, Hotel Klosterbräu, your wellness hotel in Tyrol. We would be delighted to introduce you to our neighbourhood – with us, your holiday in Seefeld is in safe hands. We look forward to your visit!
Want some spontaneous autumn time? We give you a night with our offer joie de vivre 4+1. No suitable date? Then take a look at our remaining space exchange. 🍂
Neu: Undreamed-of pleasures need unlimited possibilities. With our Klosterbräu app, you can now book YOUNIQUE experiences, culinary delights and much more from everywhere. 🙏🏼
Since July 2023: "Auffi aufn Berg"... 🔥 and into the alpine pasture! We have great news, because since July we have been the proud operators of the Reitherjoch Alm in Reith near Seefeld - which means lots of enjoyment and relaxation at 1,500m. Are you ready? ❤️
See you soon,
Your hosts