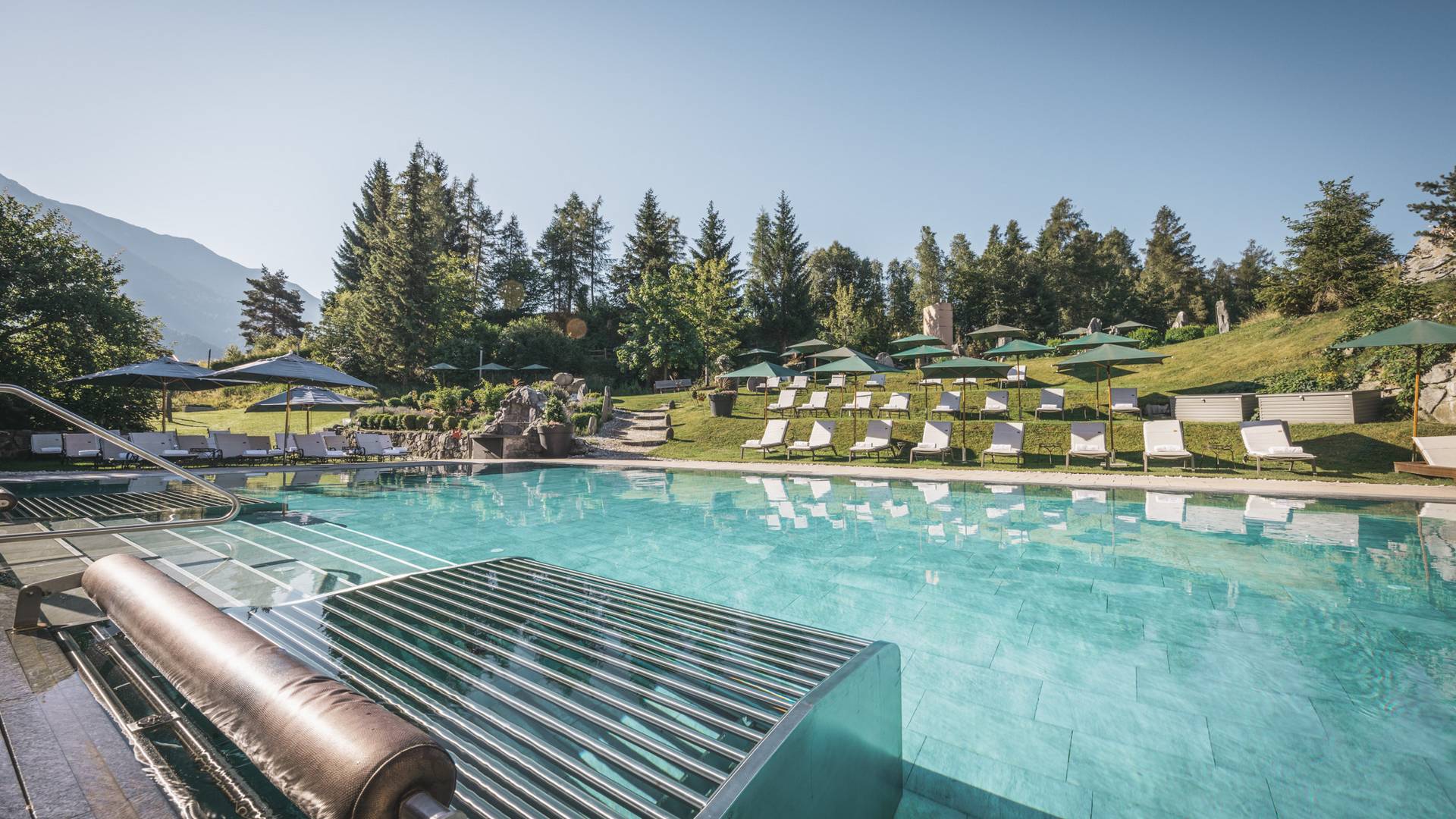 Hotel Klosterbräu
Klosterstraße 30
Seefeld in Tyrol
Just a moment - the content is loading...
Water fun to the power of five
Tyrol is known for its crystal clear and refreshing mountain lakes. Don't worry, our pools are not that cold. On the contrary, with pleasant temperatures, our 5 water areas invite you to relax and enjoy all year round. You can enjoy, for example, the magnificent mountain scenery all around or an invigorating drink - or both together ;-)
Every keen swimmer and every YOUNICORN will find their place here.

Outdoor pool
Heated all year round at 30°C
Be outdoors all year round - in freestyle, of course - in the middle of 17 x 6 metres.

Panorama whirlpool
Heated all year round at 36°C
Year-round, unique view of the Tyrolean Alps - and bubble away uninhibitedly.
Recreation Plus: This is an Adults only 16+ area.

Indoor pool
Heated with 30°C
Swim, dive and splash 15 metres lengthwise and 5.5 metres across. Or just relax and hang out at the edge of the pool.

Indoor whirlpool
Bubble at 36°C
Let your head, neck and back be pampered in front of a historic backdrop - and then take a cool sip of beer from our beer fountain in the monastery cellar.

Whirlpool Adults only
Cosily heated with 36°C
Here all Adults can lean back and relax to their heart's content - Bubbles on!
Recreation Plus: This is an Adults only 16+ area.
5 water surfaces at 1,200 metres above sea level
BREAKING NEWS: For all early bookers: Summer prices 2023 = 2024. No price increase for all bookings until 29 February 2024. 🔥
Want some spontaneous autumn time? We give you a night with our offer joie de vivre 4+1. No suitable date? Then take a look at our remaining space exchange. 🍂
Undreamed-of pleasures need unlimited possibilities. With our Klosterbräu app, you can now book YOUNIQUE experiences, culinary delights and much more from everywhere. 🙏🏼
See you soon,
Your hosts