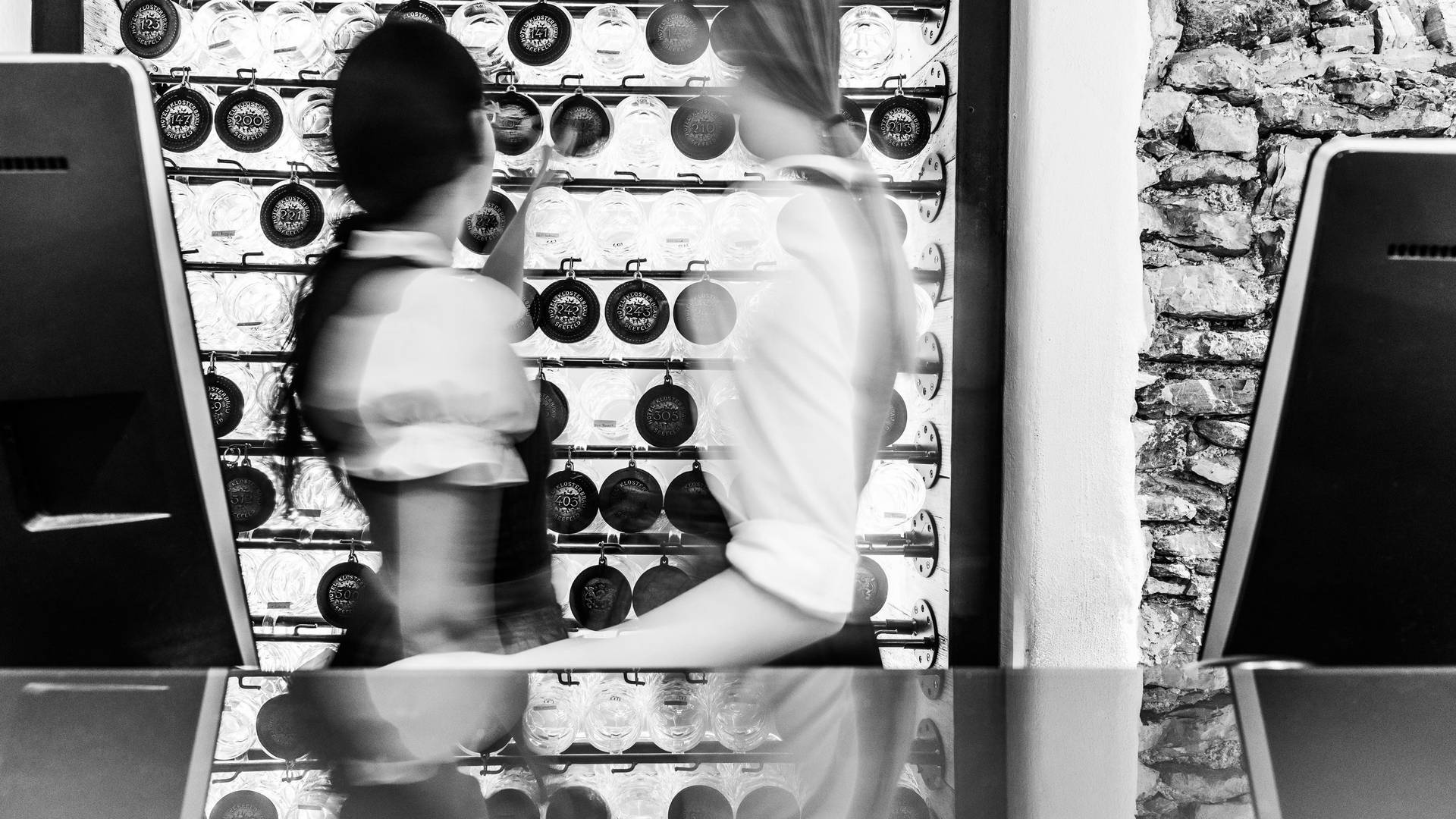 Hotel Klosterbräu
Klosterstraße 30
Seefeld in Tyrol
Just a moment - the content is loading...
What time is it? Opening hours & Co.
Check in: from 15.00
Check out: until 11.00 a.m.
Sleep in? Ask for our late check-out conditions at reception. We will be happy to coordinate your luggage service for your arrival and departure. Of course you can use the wellness area with lunch and cake snack free of charge until evening on the day of departure.
08.00 - 20.00 Relaxation rooms and swimming hall open
10.00 - 19.00 Spiritual Spa Reception and treatments bookable
Yoga, fitness and hiking programme
We offer a varied daily sports (indoor and outdoor) and hiking programme with our hiking guide and fitness team. Please register in advance: online on our homepage, at the reception or on our flat screen. We reserve the right to make changes, so please refer to the current programme on the display at reception. Please register by 8.00 p.m. the evening before.
Meal times as part of the 3/4 Vital Gourmet Pension
Breakfast in the Gewölbesaal (main restaurant): 07.30 - 11.00 a.m.
Lunch in the Vital Bistro: 12.30 - 14.30 or à la carte 12.00 - 18.00
Afternoon cake in the Vital Bistro: 15.30 - 17.00
Dinner in the Vault Room: 18.30 - 20.15 (20.15 latest admission)
Wine cellar tours with the host family
Twice a week. Your personal invitation for this will be sent to you at the reception. We kindly ask you to book in advance.
Opening hours Bräukeller Grill & Veggie
Daily from 12.00 - 22.00 hrs
Day off: Monday
Opening hours may vary depending on the season.
For kids from 3 years.
Tuesday: 5.30 – 10:00 p.m.
Wednesday – Sunday: 2.00 – 10.00 p.m.
Monday day off
Please book in advance at reception.
Everything you need to know - from A to Z
The current check-in and check-out times can be found in the insert. For shower and changing facilities, the SPA area is at your disposal. We kindly remind you to leave the safe open and return the room key upon departure. We ask for your understanding that we will have to charge you for the remaining days if you wish to leave earlier than planned.
You can get these at the reception for a deposit of € 20.
Adults Only & Age Restriction
On request, we can prepare anti-allergy bed linen for you. Please contact our reception for this.
In order to provide you with as much peace and privacy as possible, our room fairy cleans your room once a day. If you would like a second room cleaning in the evening, please put the corresponding tag on your room door by 2 pm. If you would like a second cleaning every day, please inform our reception. Tel. 401.
SUPPORT THE FOREST AND BEE PROJECT?
If you do NOT want a second cleaning, we will donate € 3,- per day to our Seefeld forest and bee project.
You want to sleep in undisturbed? Please hang the corresponding door hanger on the outside of the handle or operate the light switch RED or GREEN, depending on the room type.
On request, our car wash service is available or we can organise a rental car for you. Please contact our reception. Service for a fee.
The nearest bank is the BTV Bank with ATM / cash machine, directly opposite the hotel entrance. The Sparkasse is opposite the Seefeld train station, a 5-minute walk from the hotel. For information on other banks, please contact our reception.
Would you like to please someone with flowers? Our concierge service is always available for your personal order.
You can get these at the post office directly opposite the hotel or we will be happy to send them for you at our reception.
Luggage service on departure
Our porters will be happy to help you with the transport of your luggage. Please contact the reception desk.
Give your family, friends or business partners a gift voucher for pure luxury & indulgence. Each gift voucher is created at the reception according to your personal wishes and immediately gift-wrapped. For example, give away a stay, a dinner, a SPA treatment or a specific monetary value.
In order to be able to offer you recreation at the highest level, we ask you to refrain from using mobile devices and laptops in the wellness area and in the restaurants.
Please contact the reception and we will be happy to show you our "monastery realm".
W-Lan is available in all rooms and suites without a password. "Accept the terms of use and start surfing.
Monastery Shop & YOUNIQUE.Shop
Are you still looking for a souvenir or a memory of your holiday to take home? You are sure to find the right thing in our monastery shop next to the main entrance or in our YOUNIQUE.SHOP in the Siglu, right in front of the hotel.
It is particularly important to us that you feel "at home" with us. Therefore, with our pillow menu on your bedside table/desk, we offer you the chance to choose your pillow -
individually for your special requirements! Please indicate the number of pillows you would like to test.
Our reception staff will be happy to copy your documents for you. Should it be a little more, we take the liberty of charging a contribution towards expenses.
We accept American Express, Visa, Mastercard, Maestro and JCB card.
Night Porter & Night Audit
Our night porter will take care of your protected sleep from 23.00 to 07.00.
You will find this in your room. The reception or housekeeping will also be happy to organise your sewing request for you.
Smoking is permitted in Lucienne's Räucherstube (behind the Emperor Maximilian Lounge), on the "Bräukeller Terrasse" and on the sun terrace of the Vital Bistro. Smoking is not permitted in the rooms and all other areas of the hotel. We ask for your understanding that Austrian smoking regulations do not permit the serving of food and drinks in smoking areas.
You will receive umbrellas at our reception. We ask for your understanding that these must be returned. The umbrellas are also available for purchase in our monastery shop.
Our maids or our reception will gladly accept your laundry for washing, ironing and cleaning. As we work with an external cleaning company, we ask for your understanding that cleaning may take one working day. (Attention: Closed on Saturday, Sunday and public holidays).
In your room you will find a rucksack which is at your disposal for your stay. You are also welcome to purchase it for € 68 in our monastery shop.
This is located in the cupboard of your room or suite and requires a 4-digit code. We are happy to deposit your valuables with a value of € 4,500.00 or more in the hotel safe at reception.
24-hour shoeshine service: leave your shoes outside the room door in the evening, you will be back shined in the morning or let the reception know.
From room to room, dial the room number. For external calls, please dial 0 before.
The description of the channels and the programme can be found in the TV guide with the TV set.
Vegetarian Farm & Petting Zoo "Sigi's Sauhaufen"
The little ones and the grown-ups can look forward to
Petting zoo
Migratory chicken enclosure
Greenhouse (coming soon)
Nature playground
Own hop cultivation
Vegetable & herb garden
Nature trails
Leasing bees
and much more
Our reception will be happy to wake you up at the time of your choice.
Not thought of everything? You can get a toothbrush and toothpaste at the reception.
The "Tiroler Tageszeitung" and the "Kronen Zeitung", as well as a selection of German daily newspapers, are available at breakfast. You will find further magazines in our hotel bar, in the spa and at the reception. We will be happy to fulfil your individual request via our concierge service.
You will receive a selection of cigarettes and cigars from our humidor from our bar staff.
We will be happy to serve you the food and drinks you desire in your room 24 hours a day. You will find the room service card in your room. There is a surcharge for this service.
Culinary
Our Maître d'Hôtel will be happy to listen to your concerns regarding food intolerances.
Appropriate to the time of day and personal well-being, from sporty to elegant. For dinner in our restaurants "Gewölbesaal", "Ritter Oswald Stube" and "Klosterhof", we ask that you wear smart evening attire. Gentlemen are requested to wear closed shoes and long trousers. (Tie and jacket are not mandatory).
Take a piece of Klosterbräu with you and fortify yourself on your way home or on your excursion with healthy and delicious local products. Our reception will gladly take your "Klosterbräu Lunch Pack" order and provide information about prices.
Your minibar is refilled once a day by your maid and is included in your room rate.
An aperitif with the Seyrling family in our "heart" of the house, the 500-year-old wine cellar, takes place twice a week. A dinner with friends or our "Herzerltisch" for romantic hours for two with exclusive service can be booked by arrangement with the Maître d'Hôtel at an extra charge.
Activities
Mountains, lakes, forests and many other worthwhile destinations - and all in the wonderfully fresh, clear air of Tyrol: accessible on foot, by bus, train or limousine/rental car. We are happy to share our knowledge of the beautiful places and routes here with you. Just ask our reception staff! The hotel's own activity guide Clemens will put together an individual programme for you - for every sporting level: from a leisurely walk to breath-taking sunrise hikes, e-bike tours, snowshoe hikes or mountain tours with a stop for refreshments. For details, please see the weekly programme at the reception. Please register by 8 p.m. the evening before.
Entertainment & Activity Schedule
More than 50 new additional activities, consisting of an extended hiking and nature programme, cooking and baking courses as well as an extensive fitness and sports programme, are the result of the YOUNIQUE® variety.
Scan the code or browse through all the experiences on the large touchscreen by the reception lift.
Spacious, stylish fitness room, open daily from 06.00 to 00.00, with the option of functional training. On the 2nd floor, accessible via stairs or reception lift.
Spa & Wellness
You will find it on your bed upon arrival and you can also purchase it in our monastery shop.
A bath basket with towels is provided for you in your bathroom. You are also welcome to contact the staff at the spa reception.
There are several stylists in the immediate vicinity of the hotel - our reception staff will be happy to organise your personal wellness appointment.
Appointments for massages and beauty treatments can be made from 10.00 to 19.00 at the spa reception or by calling the in-house telephone number 345. If you are unable to keep your appointment, please inform us at least 24 hours in advance at the spa reception. In the event of cancellation at short notice, we reserve the right to charge you.
Children
We will be happy to provide you with this during your stay. Please contact the reception.
Our reception has many years of reliable contacts, we will gladly take over the organisation at the time of your choice. € 25,- per hour. We ask that you pay for this service directly on site.
Our Kids Club is open on Tuesday from 5.30 to 10.00 p.m. and Wednesday to Sunday from 2.00 to 10.00 p.m. for our little guests from 3 years. We kindly ask you to register your children for all activities and services.
Current closing day is Monday.
#noadults is the motto of our youth room in the former Jägerkeller. It is open as needed (please ask at reception) and can be reached via the monastery courtyard, towards the wooden gate (back exit). Down there, table football, Playstation & Co. are waiting for our young adults.
Special children's meals with our childcare take place from Monday to Sunday from 6pm - 6.30pm.
We ask for pre-registration in our Kidsclub until 16.00.
Dogs
5 Stars for 4 Paws Service
Cosy basket in the room, towels and drinking stations distributed at all hotel entrances. You are welcome to bring your four-legged friend to breakfast and dinner, for which a dog table will be reserved if possible (please note that 2 or too large dogs are not allowed in the restaurant). For an extra charge: dog sitter and special dog menus. Green paws in the hotel indicate areas where your pet is welcome. If you see a red paw, we ask that you only enter this area as a two-legged friend: Vital Bistro, Wellness and Spa area. Please note that leashes are compulsory in the hotel and in the Seefeld region. The Pfarrhügel behind the hotel is the best place to let off steam. We ask for your understanding that not every room can be booked with dogs.
Seefeld
Pedestrian Zone & Barrier
In Seefeld there are various bollards to keep the pedestrian zone car-free from 10.00 am. We ask you to take the hotel entrance at the EUROSPAR supermarket and ring the bell at the pillar next to the bollard so that we can open it for you. This will open automatically when you exit.
Roulette, Black Jack, Poker and slot machines. Casino Seefeld is open daily from 2.00 pm.
Experience the beautiful surroundings with a romantic carriage ride and book it through the concierge service.
The obligatory local tax is currently € 3.50 per person and night from the age of 16.
Our VIP shuttle service is available free of charge during your stay within the local area and to the Seefeld golf courses. The ski shuttle to the Seefeld ski areas departs from the hotel every full and half hour. Transfers beyond Seefeld can be arranged with our concierge service.
BREAKING NEWS: For all early bookers: Summer prices 2023 = 2024. No price increase for all bookings until 29 February 2024. 🔥
Want some spontaneous autumn time? We give you a night with our offer joie de vivre 4+1. No suitable date? Then take a look at our remaining space exchange. 🍂
Undreamed-of pleasures need unlimited possibilities. With our Klosterbräu app, you can now book YOUNIQUE experiences, culinary delights and much more from everywhere. 🙏🏼
See you soon,
Your hosts