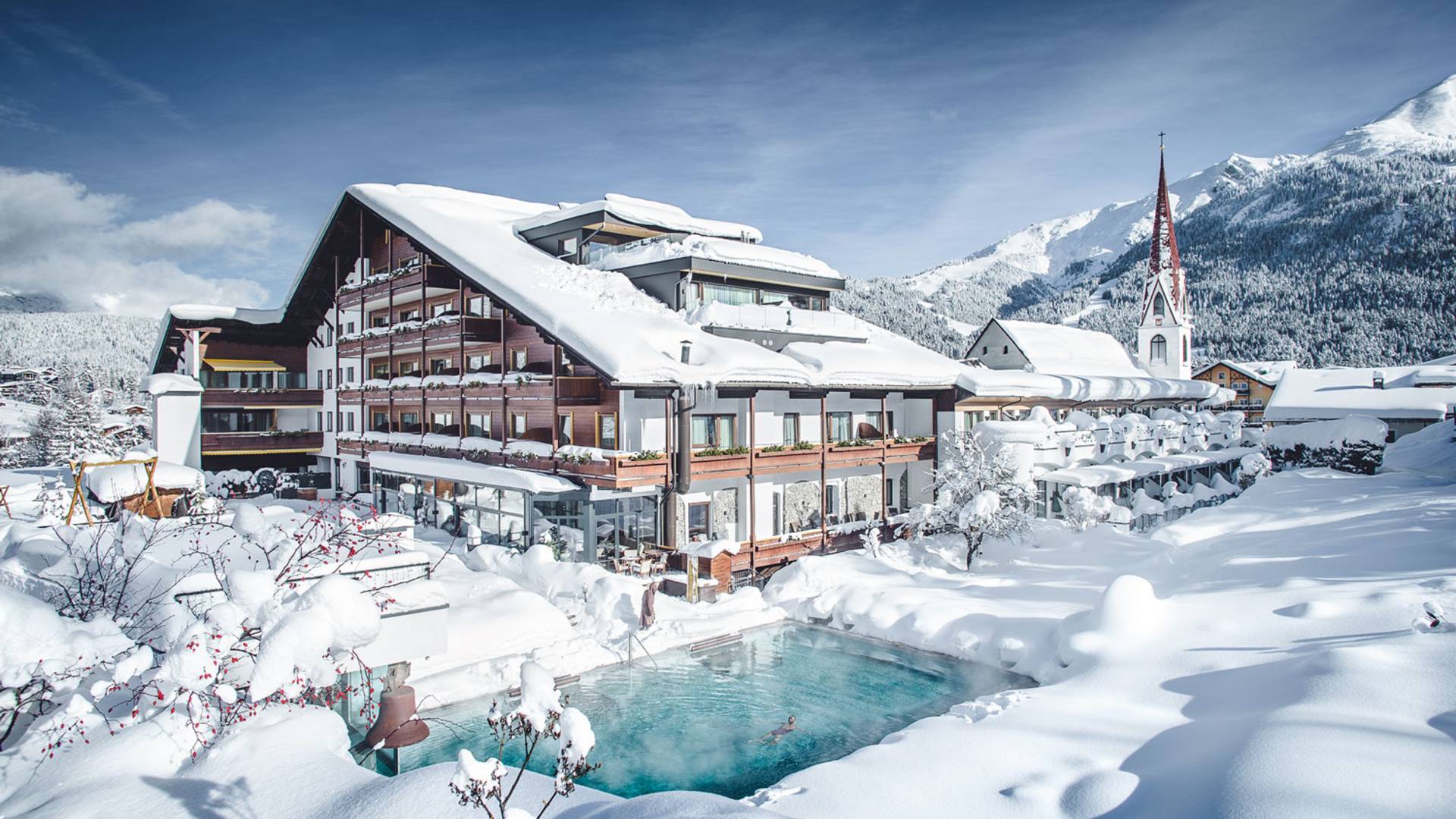 Hotel Klosterbräu & SPA
Klosterstraße 30
Seefeld in Tyrol
Just a moment - the content is loading...

We are here for you
Continuously until 03 April 2022
Interested?
We are open and welcome you - continuously until 03 April 2022.
Christmas market, winter hiking, skiing, cross-country skiing, tobogganing, carriage rides, ice skating and snowman building 😉 ...everything is possible! And there is plenty of space, peace and quiet - not only in our hotel.
We look forward to seeing you!
Agnes, Alois and the Seyrling family

Your arrival with the 2G rule
- Vaccinated or recovered -
Guests who are VACCINATED or RECOVERED and provide the appropriate valid proofs can use all services of the hotel.
Please note: Since 20.12.2021, the 3rd booster vaccination must have been given upon entry into Austria. If you cannot provide proof of this, you must present a valid negative PCR test (only necessary for entry, not for accommodation). If you are unable to present any of these documents, you must be quarantined immediately after entry until a valid negative PCR test is available. If you do not have time to take a PCR test before arrival, it is possible to take a PCR test in Seefeld on arrival. (Costs approx. € 20,-) Until the result is available (duration 12 to 24 hours) you are welcome to make a room quarantine with us. We serve you a room service free of charge.
Proof MUST be presented at check in.
2G = VACCINATED (EMA approved vaccine) or RECOVERED (up to a maximum of 6 months after illness). Proof of neutralising antibodies is not valid here.
Persons who are not allowed to be vaccinated for health reasons must have a doctor's certificate ready.
The following regulations apply to children:

Children aged 0 – 11 years do not require any medical certification.
Children from the age of 12 who fulfil 2G, do not require any further proof.
Children of school age (up to 15 years) who do NOT fulfil 2G may arrive and be accommodated with a valid PCR test.
A negative test result must be maintained throughout the stay and therefore renewed every 72 hours.
Guests who do not meet the 2G status are unfortunately not allowed to be accommodated at the moment. This applies to adults and children aged 12 and over.
FFP2 masks are mandatory in all accessible areas of the hotel.
A mask does not have to be worn during sporting activities.
Please note if your home country requires you to fill out an entry/return form for your return journey. The Olympiaregion Seefeld has summarised the most important information for you.
We are of course always available to answer any questions you may have and ask for your understanding that it takes longer than usual to reply to emails due to this situation.
The most important information at a glance
Click here for the most important facts: PDF DOWNLOAD (Status 26.12.2021)
We are happy to provide you with free PCR tests (you will usually receive the result after 12 hours).
A test station has been set up in the Schützenheim (old fire station) for all guests of Seefeld. The antigen and PCR tests, including the results protocol, are carried out by experienced staff. The tests are valid for 24 or 72 hours. Opening hours: Monday to Saturday: 8.30 a.m. - 1.00 p.m. & 2.00 p.m. - 6.00 p.m.
FAQ - Frequently asked questions from our guests: Good to know - all information on compulsory testing, masks and entry requirements. Status 28.06.21
All swimming pools and whirlpools can be used by you without restriction.
There is only a maximum restriction per swimming pool for simultaneous use (as we have 3 swimming pools and 2 whirlpools, this is easy to implement). This corresponds to 1 person per 20 m².
All saunas can be used by you without restriction.
There is only a maximum restriction per sauna for simultaneous use (as we have 8 themed saunas, this is easy to implement).20 m² for 1 person also applies here.
Relaxation, lounging & reading rooms in the wellness area
Due to the distance regulation (20 m² per person), we have adjusted the distribution of the sunbeds accordingly.
Of course, we have still provided sufficient sunbeds for you.
Massages & beauty treatments
Due to the physical proximity, you are free to wear an FFP2 mask - disposable masks are available for you at our SPA reception.
All treatments can be offered as usual.
All rooms are disinfected using steam (chemical-free) before your arrival.
Surfaces in public areas, door handles, lifts, shelves etc. are disinfected according to a strict cleaning protocol.
Sufficient dispensers for hand disinfection are available throughout the hotel.
Bed linen and towels are cleaned according to the standard.
And here's an overview of your holidays on the SAFE side:
Looots of space (calculated on 130 guests)
Indoor hotel area: 17,000m2 – per guest: 130m2
Pfarrhügel private garden: 80,000m2 – per guest: 615m2
Private forest: 890,000m² – per guest: 6,846m²
Spa & wellness area: 3,500m² – per guest: 27m²
3 pools, 2 whirlpools, 8 saunas, 8 relaxation rooms
Completely new and enlarged fitness room
7 restaurants and dinner locations inside the hotel
Sunny high plateau Seefeld
7km from the German border
Accessible via three cardinal points
13 lakes, accessible on foot or by bike from the hotel
560km walking and hiking routes
230km bike and e-bike paths
27 holes for golfing
More than 50 shops, boutiques, and casinos
More than 50 restaurants
Tennis: 8 indoor courts and 8 brand-new outdoor courts
During the entire COVID-19 period, very low case numbers in Seefeld
Currently very low number of positive cases in Seefeld and the surrounding area
No COVID-19 cases at all at Hotel Klosterbräu
Flexible cancellation conditions until 01.11.2020 – free cancellation up to 48 hours before arrival
University Hospital Innsbruck (25km) / Klinikum Garmisch (45km) / 5 doctors based on the Seefeld plateau
Seefeld is a pilot region: the majority of companies test their employees on a weekly basis using PCR tests.
FFP2 mandatory masks
Quarantine obligation when travelling home.
Quarantine obligation on entry. (Ten-day quarantine or five-day quarantine and free testing by means of antigen or PCR tests.
Our Karwendel Nature Park - 727km²
The largest protected area in Tyrol
The largest nature park in Austria
Origin and source of the Isar river
Unique alpine flora and fauna
Hiking and biking paradise
Countless rustic huts

- Enjoy Younique & safe -
We do not only meet but exceed all distance and hygiene regulations with ease. Thanks to our 7 restaurants and dining locations you can enjoy to your heart's content.
We have always offered you numerous possibilities for retreating and relaxing. Now you can reserve our saunas, pools, and fitness room exclusively for you by the hour. Free of charge. New since summer 2020: Additional outdoor pool & magnificent new fitness room. Lots of space – have fun!
We are also breaking new ground when it comes to our rooms. You are free to decide whether our employees clean your room 1 or 2 times a day. Before every new arrival the entire room is cleaned without chemicals by means of steam disinfection!
- Passion Younique & safe -
We continue to welcome you with our heartfelt smiles. Even if it is very difficult for us, we currently have to do without handshakes and hugs. Instead we have a new Klosterbräu welcome! And just like the old one, it comes right from our hearts.

Feel Free - Booking Conditions
We have extended our flexible cancellation conditions FEEL FREE New over the winter of 2021/2022. You can cancel or rebook free of charge up to 48 h before arrival - you decide. This is valid until 03.04.2022 under arrival of one of the following options:
GOVERNMENT QUARANTINE ORDER FOR RETURNING TRAVELLERS FROM THE FEDERAL STATE OF TYROL
YOU YOURSELF OR ONE OF YOUR FELLOW TRAVELLERS HAVE TESTED POSITIVE FOR COVID-19 OR ARE A K1 PERSON (PRESENTATION OF A POSITIVE TEST / OFFICIAL NOTIFICATION REQUIRED)
Please understand that separate conditions apply for the period 20.12.2021 to 09.01.2022.
All measures, facts, and figures of the entire region can be found here. Have a look, taking a deep breath, and relax.
All official regulations for restaurants, hotels, pools, and leisure facilities can be found here: Safe hospitality.
https://www.sichere-gastfreundschaft.at/
Daily updated COVID-19 figures in Tyrol can be found at the link below.
For the region Seefeld please select district Innsbruck Land.
Dear guests,
we are open and welcome you - continuously until 18 April 2022. Winter hiking, skiing, cross-country skiing, tobogganing, carriage rides, ice skating and snowman building 😉 ...everything is possible!
At the moment, the booking situation is generally very quiet, so lots of space, peace and quiet and freedom - not only in our hotel. So for last-minute bookers: e.g. book our 4+1 January midweek offer.
Our charming colleagues from the reservation department are already waiting for your call: +43 5212 2621 252. You can also enquire directly here.
We look forward to seeing you!
Agnes, Alois and the Seyrling family

SAFETY FIRST: Here you can find all travel and holiday regulations.