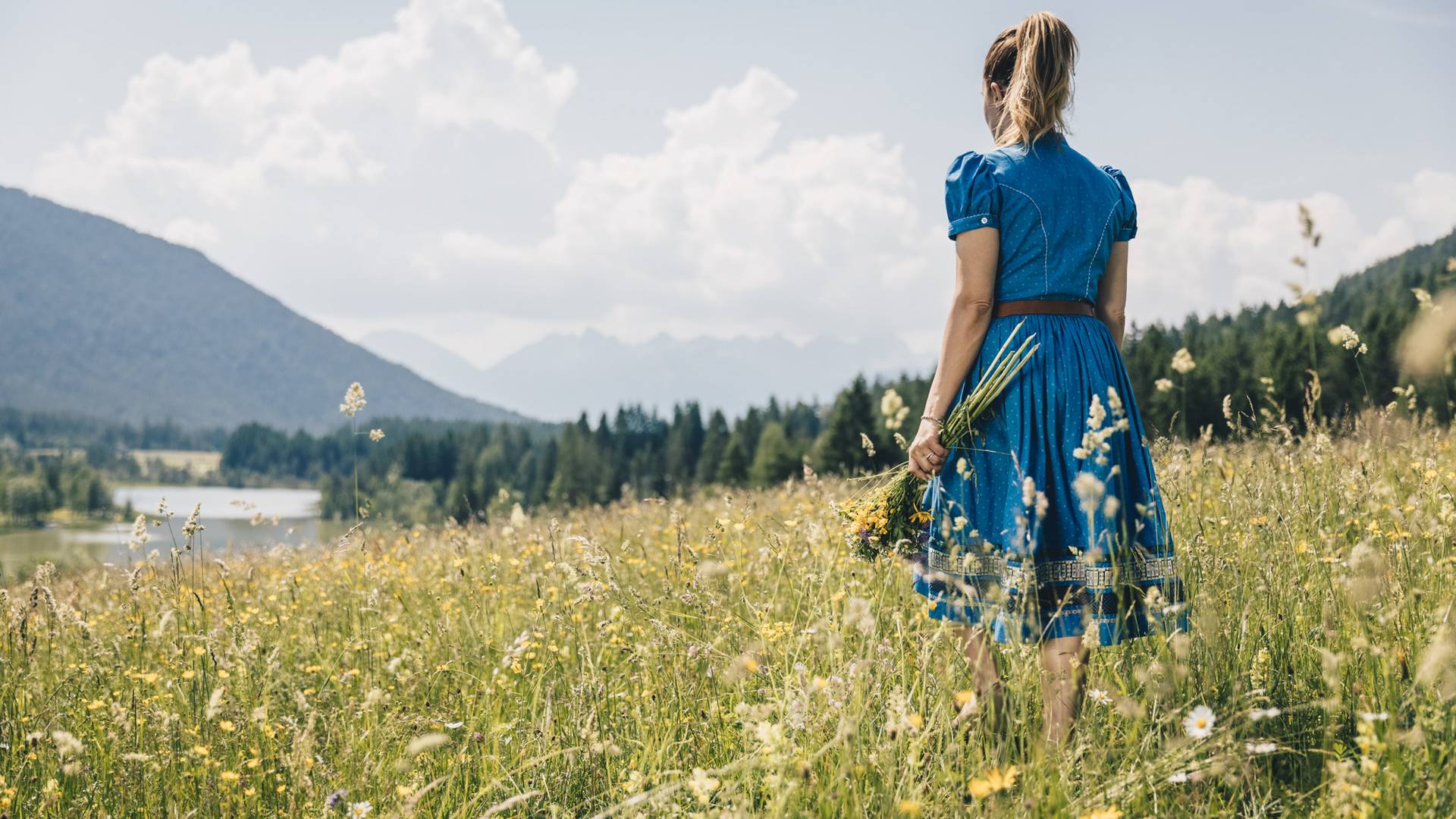 Hotel Klosterbräu & SPA
Klosterstraße 30
Seefeld in Tyrol
Just a moment - the content is loading...

Untouched, Intense, Indescribable
Experience nature - with us
Interested?
Red, yellow, pink, green, and in the middle of the untouched flower meadow a bee is making its rounds. Hardly anyone is as industrious and important as they are, and what's more, you never stop learning about these insects that are essential for survival. Experience nature with us as no one else does.

Guided tours on arable farming and organic farming
- We share our enthusiasm for nature with our guests -
There is a lot of detail in the tours of our parish hill: We explain what our piece of land is all about, what we grow there and also what we produce from it. A little nature and animal history is of course included. The best thing is to follow us and our passion and see for yourself this energetic spot on earth.

Wild Herbs and Nature Study at the Parish Hill
- Learn professional knowledge about our own plant world -
There is so much power in our native mountain and meadow herbs. That is exactly what we want to show and explain to you. Together with our herb and nature expert, you will go on a walk across the Pfarrhügel and learn interesting facts about the cultivation, care, use and effect of these little powerhouses. Snacking is expressly permitted!

Stealing eggs and cuddling with animals
- Children's dreams come true here -
...and gladly also the dreams of the adults. Our rare migratory chickens give every guest - small and large - their personal breakfast egg to take with them on their way. Of course, this is only something for the particularly daring among you ;-) Combine this experience best with a visit to the organic farm and the petting zoo "Sigi's Sauhaufen" to cuddle with one of our mini animals - or with two or three...
We are here for you until 03 April 2022!
Hot news and top offers with Feel Free cancellation conditions
Your safe time out
3G - rule (tested, vaccinated, recovered) remains in place and you stay flexible with the 48 h Feel-Free booking conditions.
Luxury Spa with Augustinus Bader
you can experience from now on in our Spiritual Spa. The "best skin care ever" is available directly from us.
For your spontaneous getaway
You'll find a room to suit your taste in our spare room exchange.
505 Years Special 6+1
For our anniversary celebration from 28.11. to 08.12.2021 we give you an overnight stay and offer a casual event programme.
We look forward to seeing you!
See you soon,
Agnes, Alois Seyrling & Seyrling family
& the entire Younique ® team

MORE INFORMATION