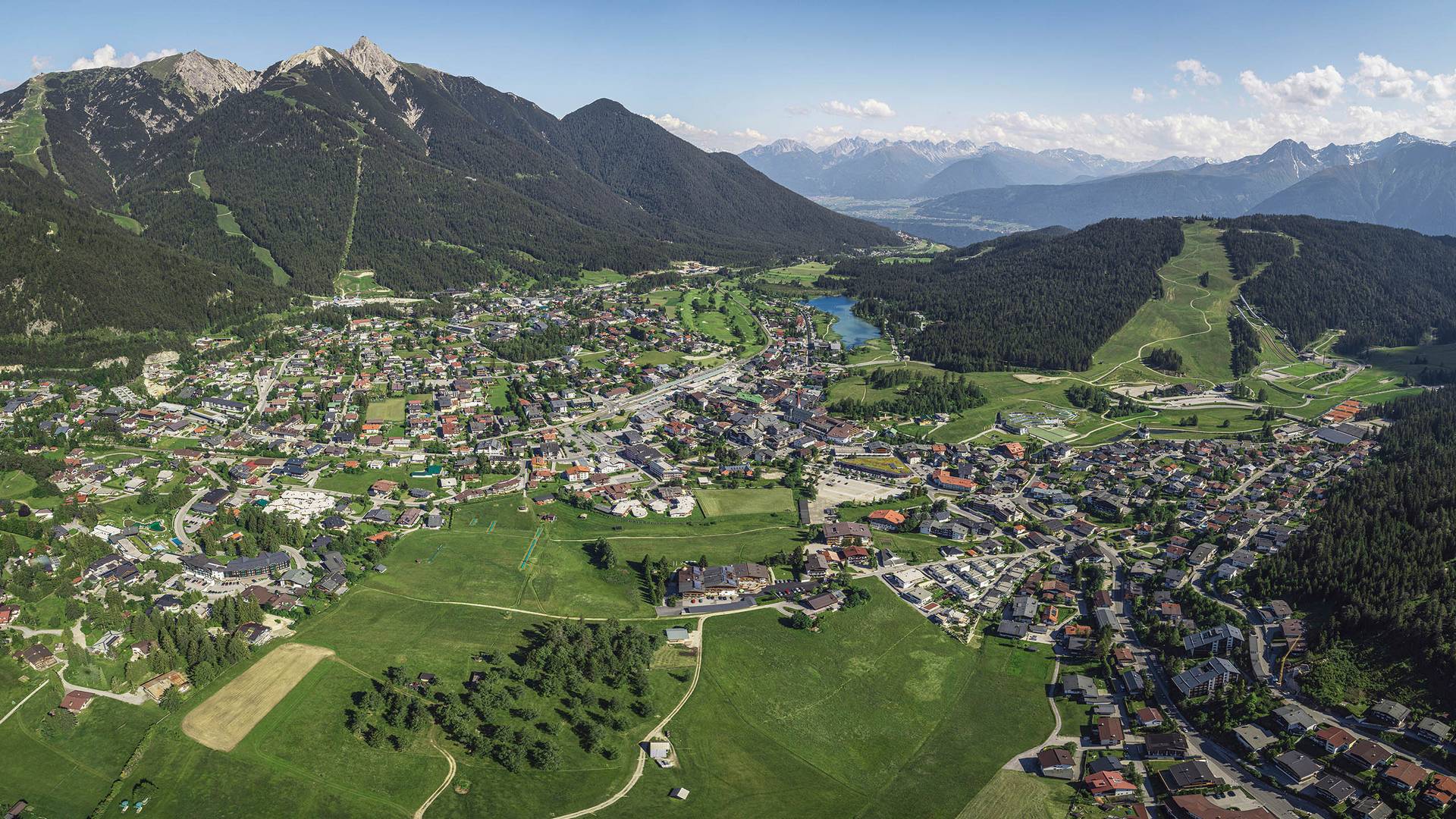 Region Seefeld – Tirols Hochplateau
Hotel Klosterbräu
Klosterstraße 30
Seefeld in Tyrol
Just a moment - the content is loading...

Region Seefeld – Tirols Hochplateau – variety in the heart of the Tyrolean Alps
4 seasons in the natural idyll on the sunny plateau. Between Karwendel and Zugspitze.
Interested?
The diversity of our homeland leaves us speechless every day.
So many impressions, so many stories that Seefeld in Tyrol has in store for you.
So that you don't miss a chapter, your personal hiking and activity guide Clemens is always at your disposal. He will tell you interesting facts about our nature and show you our home through the eyes of a real Tyrolean ...

Your mountain guide Clemens. Portrait of an adventurer.
Look forward to a daily changing excursion, sports, and culture programme with your personal leisure and activity guide, our family member Clemens. As a certified and trained Tyrolean hiking guide, the member of your host family knows the flora, fauna, and the mountain world very well and conveys his knowledge in an interesting way and with plenty of Tyrolean charm.
Depening on your wishes, Clemens offers everything from leisurely strolls or dog walks to breathtaking sunrise hikes with summit breakfast. Looking for animal traces is particularly exciting, as is a jovial hike to the alpine pastures and rustic huts.
Hidden treasures such as "the most beautiful mountain lake in Tyrol" or the "source of the Isar river" can be explored in absolute safety and comfort. On foot or with the hotel's premium e-bikes.
"In the mountains there exists only the real and authentic YOU."
You have never experienced nature like this before! Personal. Up-close. Individual.
This is BE.YOUNIQUE®.
One region – 4 seasons. Activates in nature for families and children.
As a destination worth visiting all year round, Seefeld in Tyrol presents itself as a natural treasure trove. The sunny plateau at 1,200 metres above sea level offers exciting adventures, wonderful hikes, sporting delights, and urban flair.

Spring means recharging your batteries. Regeneration and time to unwind.
How we would describe Seefeld in Tyrol?
Hiking in the unspoilt Seefeld countryside, following the sun's rays, taking a break at one of the countless rustic huts and alpine pastures, and gathering strength with Tyrolean delicacies. Take a break at the Spiritual Spa and relax to the full on holiday in Seefeld.

Summer means refreshment in the mountains. In the morning on the saddle of your bike, in the afternoon by the lake, at noon while golfing.
How we would describe Seefeld in Tyrol?
Over 650 kilometres of hiking, mountaineering, and via ferrata routes are waiting to be explored by e-bike, mountain bike, Segway or on foot. Dive into the refreshingly cool water of the mountain and bathing lakes or wade along the rivers on tiptoe. Perfect fairways and greens await all golf lovers.

Autumn means pampering time. Holistic wellness and wellbeing. For all the sense.
How we would describe Seefeld in Tyrol?
Treat yourself and your loved ones to a wellness holiday with us. Our 3,500m² wellness area with saunas, massages, and beauty treatments guarantees wonderful relaxation after a sporty hike through the unspoil forest.

Winter means cross-country paradise and winter sports Eldorado. Active and snowy.
How we would describe Seefeld in Tyrol?
Countless cross-country trails and ski slopes, snowshoe hikes through unspoilt landscapes, joint toboggan descents, that's winter holiday here in Seefeld. Everyone is sure to find their favourite activity.
For detail lovers. All activities in the Region Seefeld – Tirols Hochplateau at a glance.
Skiing in the children's ski areas of Rosshütte and Gschwandtkopf
Night skiing at the Rosshütte Seefeld
Sow tubing and tobogganing in the Birkenlift ski area
Tobogganing at the Pfarrhügel (100m from the hotel)
Ice skating and curling at the sports & congress centre (100m from the hotel)
Snowshoeing and igloo building in Seefeld
Looking for animal tracks in the forest
Summer, autumn & all year-round
Walk or picnic with Alpakas (mini camel)
Adventure playground with tubing area at the Rosshütte
Natural playground Karwendel in Scharnitz & at Lake Wildsee
Family climbing garden in Scharnitz and Leutasch
Fishing at Forellenhof Leutasch
Mini golfing and golfing at the Seefeld Golf Course (27-hole)
Horseback riding at the Seefeld stables
Tennis at the Seefeld courts
Bowling in the Seefeld or Innsbruck bowling centre
Birkegg petting zoo
Swimming at Lake Möserer or Lake Wildsee
Pedal boating & stand-up paddling at Lake Wildsee in Seefeld
Adventure pool with slides in Seefeld and Leutasch
Horse-drawn carriage rides and tractor-drawn carriage rides
Bee nature trail and insect nature trail
Salzbach/Leutasch water playground
Horse-drawn carriage rides and pony rides
Climbing taster course (from the age of 6)
Wandernadel passbook
Marmot safari
Boat rental at Lake Wildsee
Area47 with climbing area, slides, wakeboards, diving platforms, trampolines
Area47 with Flying Fox & e-motocross arena
Indoor Go-Kart track in Innsbruck
Beach volleyball at Lake Wildsee in Seefeld
Rafting in Haiming
Laser dome, bowling and escape games in Innsbruck
Paintball in Scharnitz, Telfs, or Innsbruck
E-bike safety training in Seefeld
Climbing hall in Innsbruck
Ice channel bobsleighing on the Igls Olympic track
Paragliding tandem flight at the Rosshütte Seefeld
Horseback riding lessons with excursions
Seefeld cinema – 100m from the hotel

Holidays in the Region Seefeld – Tirols Hochplateau. Relaxed arrival. Deluxe regeneration.
Seefeld in Tyrol and the world's highest ICE station. Arrive faster. Relax better.
Direct ICE connections from Germany (via Hamburg and Hanover and from Dortmund via Cologne and Frankfurt).
Want some spontaneous autumn time? We give you a night with our offer joie de vivre 4+1. No suitable date? Then take a look at our remaining space exchange. 🍂
Neu: Undreamed-of pleasures need unlimited possibilities. With our Klosterbräu app, you can now book YOUNIQUE experiences, culinary delights and much more from everywhere. 🙏🏼
Since July 2023: "Auffi aufn Berg"... 🔥 and into the alpine pasture! We have great news, because since July we have been the proud operators of the Reitherjoch Alm in Reith near Seefeld - which means lots of enjoyment and relaxation at 1,500m. Are you ready? ❤️
See you soon,
Your hosts