Hotel Klosterbräu
Klosterstraße 30
Seefeld in Tyrol
Just a moment - the content is loading...







YOUNIQUE
Rooms
Raum und Zeit auf insgesamt 90 Zimmer & Suiten teilen / genießen / vergessen. Ankommen und Bleiben.
[Translate to Englisch:]
Detailverliebt. Stylisch. Individuell. Großzügig. Exklusiv. Wir haben sie alle!
90 Zimmer & Suiten, um genau zu sein. Das müssen Sie sich aber nicht merken, Sie werden Ihr Lieblingszimmer fühlen! Bestimmt finden Sie auch Gefallen an dem Drumherum, von unseren maßgeschneiderten, ganzjährigen Angeboten ganz zu schweigen. Damit wir Sie nun beim Träumen nicht wecken müssen, sollten Sie gleich Ihr Wunschzimmer reservieren.











YOUNIQUE
Wellness & Spa
Wellness- & Spa-Hideaway für Seele, Mensch und Herz.
[Translate to Englisch:]
Ein Anker- und Kraftplatz für alle Sinne – der mehrfach prämierte Wellness- & Spa-Bereich.
Garantiert entspannte Momente genießen im 3 500 m² großen, mehrfach prämierten Wellnessbereich fernab von Hektik und Alltag. Eintauchen und Abschalten können, das versprechen 5 Wasserflächen samt beheiztem Außenpool und einem Panorama Schwimmbecken vor der romantischen Bergkulisse. 8 Themensaunen beflügeln Geist und Körper, die handgeschnitzte Sauna Heiss-Zeit wird mit ihren Erlebnisaufgüssen zum Ruhepol. Individuelle Behandlungen angepasst an die Bedürfnisse des Einzelnen stehen für die ganzheitliche Wohlfühl-Philosophie.
Zum Abschluss sich einfach einen erfrischenden Schluck aus dem Bierbrunnen gönnen.








YOUNIQUE
Culinary
Exklusivität, Genuss & Regionalität zum Auskosten.
[Translate to Englisch:]
Ein Kulinarisches Gesamtkonzept von Herzen für den Gaumen.
Regionalität und Genuss treffen auf 1 200m² in insgesamt 8 exklusiven Dinnerlocations aufeinander. Von der ¾ Vital Gourmet Pension rundum verwöhnen lassen, sich einen erfrischenden Schluck selbstgebrautes Bier gönnen, im Bräukeller & Grill herzhafte Steaks und eine Vielfalt an veganen und vegetarischen Gerichten genießen. Besondere Genussmomente im Weinkeller entdecken.
Weil wir selbst gerne Schlemmen und dabei auf die Regionalität und Qualität unserer Produkte achten.






YOUNIQUE
Employees / Host / Hotel
Wir füllen Ihren Urlaubsort mit gelebter Gastfreundschaft. Familie Seyrling seit mehr als 200 Jahren
[Translate to Englisch:]
Einzigartig, unique und gemeinsam Younique®
Seit 1516 dürfen wir, Ihre Gastgeber-Familie Seyrling und unsere fleißgen MitarbeiterInnen, unsere gelebte Philosophie mit Ihnen teilen. Sharing is caring – denn wir erleben die spannendsten Momente gerne mit Ihnen gemeinsam, das macht uns Younique und zeichnet uns aus.
Zusammen lachen. Sich freuen. Das Leben genießen und feiern.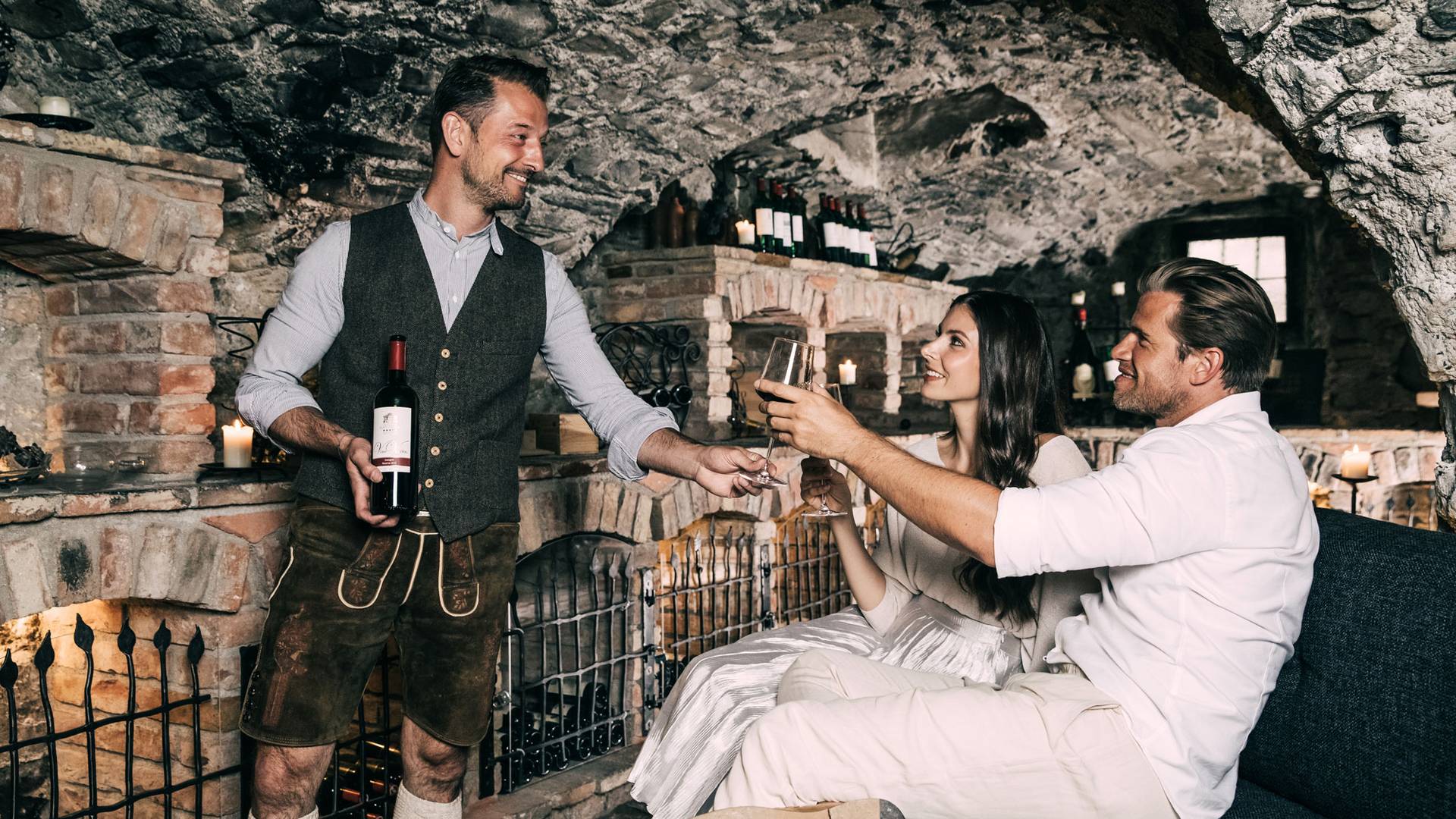 YOUNIQUE
Unforgettable experiences
Echte Erlebnisse und einzigartige Augenblicke. Von der Gastgeberfamilie für Sie.
[Translate to Englisch:]
Momente bewusster erleben. Augenblicke auskosten. Innehalten. Die Zeit für einen Magic Moment lang anhalten.
Wir selbst erleben täglich tausend neue Dinge – doch an wie viele können wir uns abends vor dem Einschlafen noch erinnern? Welche Momente zaubern uns selbst ein Lächeln auf die Lippen und welche Erlebnisse wollen wir unseren Gästen näherbringen?
BREAKING NEWS: For all early bookers: Summer prices 2023 = 2024. No price increase for all bookings until 29 February 2024. 🔥
Want some spontaneous autumn time? We give you a night with our offer joie de vivre 4+1. No suitable date? Then take a look at our remaining space exchange. 🍂
Undreamed-of pleasures need unlimited possibilities. With our Klosterbräu app, you can now book YOUNIQUE experiences, culinary delights and much more from everywhere. 🙏🏼
See you soon,
Your hosts